Yukihiro Taguchi
Makeover
2013

8.17 -

2013

9.14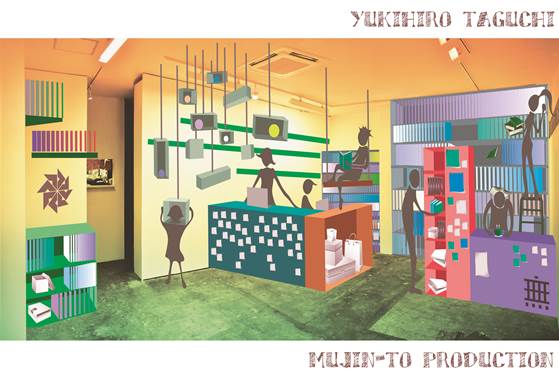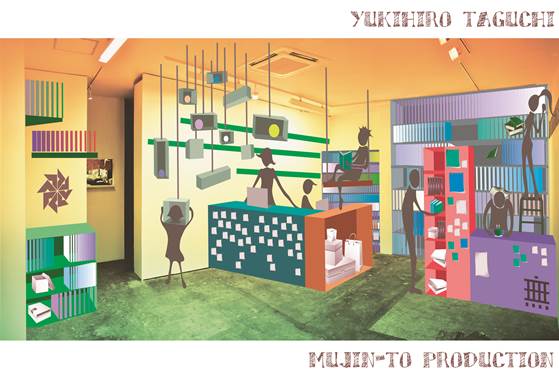 MUJIN-TO Production is pleased to announce Yukihiro Taguchi's solo exhibition "Makeover" starting from August 17th.
Being based in Berlin, Taguchi explores many projects in various places all over the world, as part of his borderless activities. Including his solo show for MAM Project at Mori Art Museum, Taguchi has participated in the Havana Biennial as well as other exhibitions in Maldives and Zurich, and also launched a project in Nairobi, enthusiastically expanding his activities.
Taguchi has been creating numbers of "stop motion" videos; an animation technique made by moving objects in small increments between individually photographed frames. He usually takes found-objects, or sometimes the site itself he visits, as his video's main role, and turns the space -indoors or outdoors, for instance, gallery or the whole town- into his own canvas. Sometimes he even tears off and uses the wall or the floor of the gallery and let those inanimate objects freely wander outside. His world wide activities seem to easily jump over the borders between inside&outside, or this-side&that-side, while representing his resilient attitude restructuring our common sense.
This exhibition, "Makeover," will be a collaborative project together with Chiara Ciccarello, an Italian architectural engineer/designer based in Berlin. In March 2013, Taguchi and Ciccarello had built Taguchi's house as their initial collaborative work.
As their second collaboration, the two will literally makeover MUJIN-TO Production. They will attempt to invert the office&storage space and the exhibition space; bring all the unseen office and documents to the from of the gallery, and instead, show Taguchi's work and products in the back office where nobody but the employees had been, space-reversing project.
In addition to the main project, Taguchi proposed to make collaboration work with all the other artists of MUJIN-TO Production.
In order to create video work having both of the collaborating artists' characteristics, they will be viewing each other's recent works and exchange ideas of how to collaborate, and then go on to actual production. The work being made with such procedure will evidently be a unique piece of the artists' cooperation, while all the respective collaborations will bring new perspective on Taguchi's activities. The collaborative video works will be created and added during the show too, and even after the exhibition period.
Taguchi is also participating in the group show at Hiroshima Museum of Contemporary Art "ART ARCH HIROSIMA 2013 -site-," and so please visit the show when you get a chance to visit Hiroshima, along with our exhibition too.