Chim↑Pom
SURVIVAL DANCE
2011

9.24 -

2011

10.15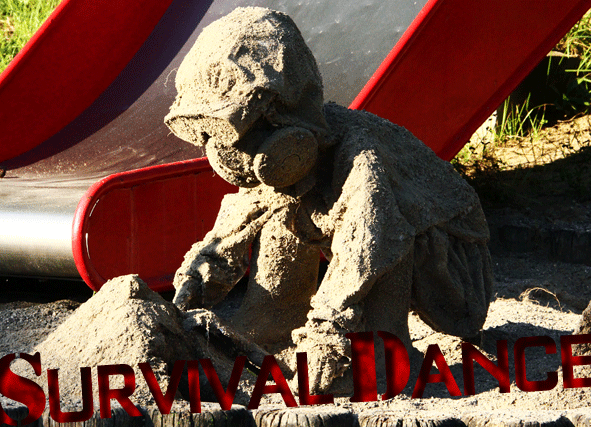 MUJIN-TO Production / SNAC will present Chim Pom "SURVIVAL DANCE"exhibition from 24 September.
Having prepared from the last year, however, ChimPom finally created this exhibition in a totally different manner from its initial plan through the earthquake on 11 March and their immediate reaction "REAL TIMES" exhibition in May. After the preceding exhibition that demonstrated "real moments, real times," ChimPom then reflected upon how they can enjoy the life in the present reality of Japan and the world, and how they confront with it as the artist. The attempt has resulted in new works showing their never-changing essence, namely "survival spirit" to survive in the world, which is represented by their debut work "Super Rat."
ChimPom has come to influence society not a little through controversies following "PIKA!" in Hiroshima in 2008 and "REAL TIMES" this year. In interviews with reporters ChimPom and Mujinto Production have often encountered phrases like "ChimPom deals with social issues," which sometimes sounds strange to us. The word "social issues" those media use sounds as if ChimPom were not present in the society and existed only in its outside.
However, ChimPom has always stood in the midst of "the society/world we live in" and engaged with "social issues = our issues" as their own responsibility. What they have discovered through confrontation with present "our issues" were, first of all, to face difficulties directly no matter how severe they are, then to evolve to adapt themselves to the difficulties, to live convivially and to practice and realize it. Throughout their activity, in their very first exhibition "Super Rat" fascinated with tough survival of rats in Shibuya ("SUPER RAT" 2006), play with crows in famous sights in Tokyo ("BLACK OF DEATH" 2007), struggle with piles of wastes in Indonesia ("Saya mau pergi ke TPA" 2008) or direct confrontation against the Fukushima 1 Nuclear Power Plant after 3.11 ("REAL TIMES" 2011), ChimPom has sincerely faced various people, animals and events in cities and societies.
This "Survival Dance" exhibition will present the life style to convivially and dynamically survive severe realities such as "society of control," "radioactive contamination," "social strata"or "historical tragedies," which must be called Survival Dance, in various forms of photograph, painting, object or installation. What ChimPom demonstrates in this exhibition is not "real times" but "future times." But the reality is no longer hypothetical as the 20th century had imagined "How to survive if such a future will arrive?" in science fictions. It has been real and urgent situations in which we must consider "what life we can live in the reality we're actually facing before our eyes." Therefore ChimPom created their new works to propose strength and toughness like "Super Rats" who survive eliminator, positive survival spirit and the way to face the world. Please come and see the vision for the coming future by ChimPom, who has departed a step ahead toward the reality, away from old fashion "Survival Spirit" that stressed competitiveness like shelter or battle.
"We and Chim↑Pom will continue into the future!"
■Exhibition in another venue
Chim↑Pom「K-I-S-S-I-N-G」
Period: 26 September -19 December
Opening Reception: 26 September 2011, 19:30 – 21:30
Venue: The Container (inside Bross hair salon)
1F Hills Daikanyama 1-8-30 KamiMeguro Meguro-ku Tokyo 153-0051
www.the-container.com  www.bross-hair.com