Group Exhibition
Sumikko CRASH☆
2022

3.5 -

2022

4.3

Artists: Shinya Aoyama, Tatsumi Orimoto, Wataru Koyama, Mariko Tomomasa, Osamu Matsuda
Guest Curator: Mika Kuraya
Tue-Fri: 13: 00-19: 00
Sat: 14: 00-18: 00
Sun: 12: 00-16: 00 (the last day, April 3rd, 14: 00-18: 00)
* Please note that the opening hours vary depending on the day of the week.
Closed: Mondays and public holidays
free entrance
*Screening of documentary film every Sunday.
*Artist talk on Saturdays
—————————————————————————
MUJIN-TO Production is pleased to announce"Sumikko CRASH☆" a group exhibition curated by Mika Kuraya (Director of Yokohama Museum of Art), as the first guest curator since its establishment.
The pandemic has continued for more than two years since 2020 and the Tokyo Olympics that took place during that time have widened the existing social disparity.
People living in the corners of society have been forced into even more difficult situations. Some have been displaced from their homes and some have lost their jobs.
But when they are emotionally driven and utter their own voices, there is a great deal of energy.
Those people who are strong, tough, who create their own territory, and trying to survive today. You can even find laughter that empowers us there.
This exhibition introduces the works of five artists who captured the manifestation of such energy, sometimes as a party, sometimes as a mediator who conveys the voice of these people.
It also includes pre-2020 works that deal with similar issues that already existed before the pandemic. These recent works, which were produced at a major turning point in society, such as the Great East Japan Earthquake and the spread of Ebola hemorrhagic fever, will take on a new meaning under the current circumstances.
—————————————————————————
[Artists / works]
Shinya Aoyama
Film director and documentary filmmaker. He is often involved in the production of video works by artists. Received the Tokyo Documentary Film Festival 2020 Special Award for his first directorial work, "Olympiad Tokyo Kasumigaoka Public Apartments".
Olympiad Tokyo Kasumigaoka Public Apartments, 2021
The film follows the residents of the metropolitan housing who were forced to evict due to the construction of the national stadium without narration. Screening and exhibition of related materials.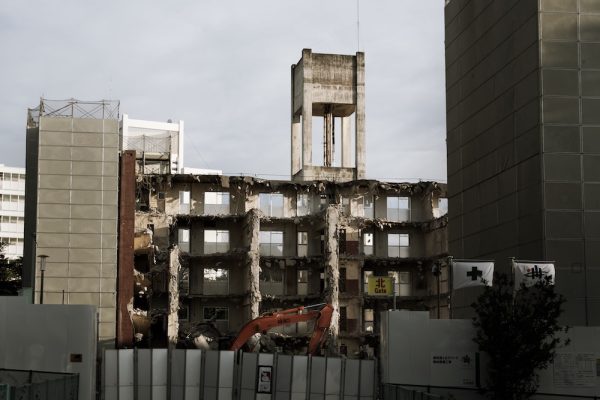 ©️Shinya Aoyama
Tatsumi Orimoto
Caring for his mother for over 20 years and producing works with her as a main theme. Major solo exhibitions include "Tatsumi Orimoto: Old and Now" (Onomichi City Museum of Art, 2018), "Living Art Tatsumi Orimoto" (Kawasaki City Museum, 2016), "Tatsumi Orimoto: Live in Transition" (The Exchange, A Foundation, UK, 2010), "Tatsumi Orimoto" (Sao Paulo Museum of Art, 2008), etc. He has participated in many international exhibitions, including the 49th Venice Biennale International Art Exhibition (2001).
Drawings from Gaikotsu, 2010-2012
Introducing a small part of the large drawing series drawn between the care of his mother before and after the Great East Japan Earthquake.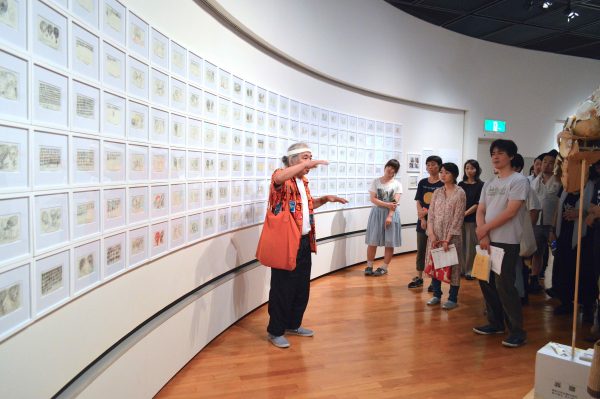 Courtesy of Aoyama Meguro
Wataru Koyama
He mainly produces video works with the theme of the human body and mind that appear in the relationship between society and the individual. His major solo exhibitions include "The Heart is Beating" (Decameron, 2021) and "Untouchable" (Kitasenju BUoY, 2019).
Last minute, 2020-
The record of the "last words" that the artist wants to leave at that point when his emotions is moved within the one-minute time limit.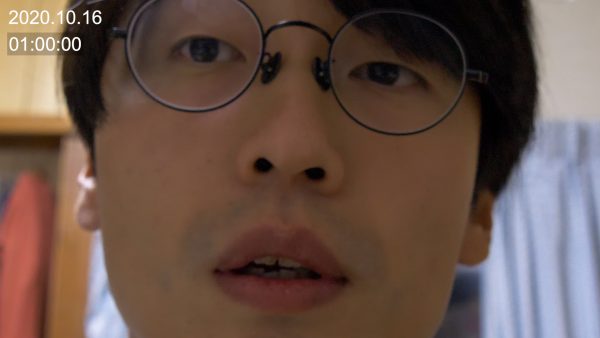 ©︎Wataru Koyama
Mariko Tomomasa
Produced video works with the theme of the process of communication. Her major solo exhibitions include "Window Movie Theater, Dream of Curtains" (Art Access Adachi Otomachi Senju no Rim "Senju / Ren Residence", 2021), "Beautiful Story" (TALION GALLERY, 2019). Her main project is "Unknown Alley Film Festival" (Adachi-ku, 2016-).
Have a meal with FATHER (Burkina Faso), 2014
One of the series that is performed under the rule that "the relationship between father and daughter is between meals". A meal with a Burkina Faso "dad" progresses with little understanding of each other's words.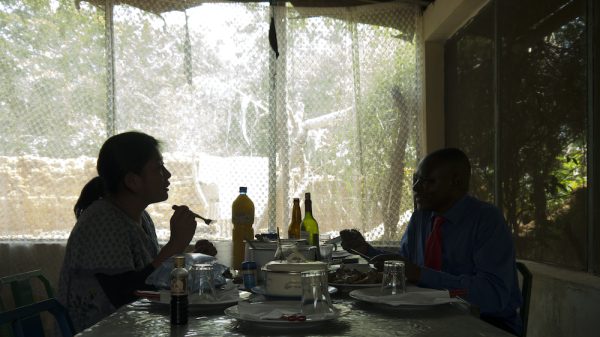 Courtesy of Talion Gallery
Osamu Matsuda
Using various media, Matsuda deals with universal themes such as life and death, with motifs of problems, phenomena, and customs hidden in society. His recent exhibitions include solo exhibition "Wrong Turn" (MUJIN-TO Production, 2020), group exhibition "Where is a place for us?" (The University Art Museum, Tokyo University of the Arts, 2021).
Slave chair, 2020, Video installation
A woman in a faded photo moves awkwardly and tells her life story in poverty.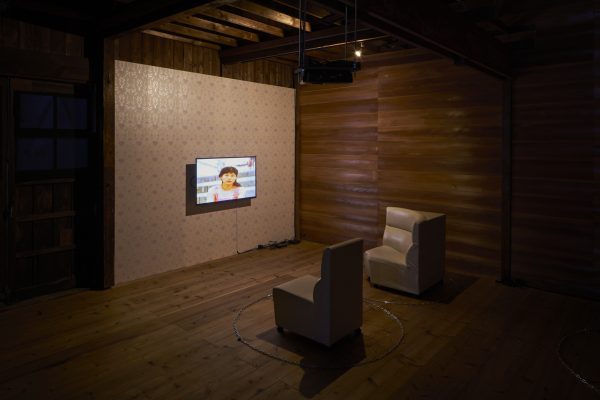 Cooperation:
Aoyama Meguro
ARTISTS' GUILD
KA FACTORY
TALION GALLERY
WHITELIGHT
—————————————————————————
Artist × Curator talk event
March 12 (Sat) 12:30-13:30 Wataru Koyama x Mika Kuraya
March 19 (Sat) 12:30-13:30 Mariko Tomomasa x Mika Kuraya
April 2 (Sat) 12:30-13:30 Osamu Matsuda x Mika Kuraya
Capacity:30
Ticket:¥500
To reserveclick here
https://mujinto-summikotalk.peatix.com/
—————————————————————————
Screening
Directed by Shinya Aoyama
Olympiad Tokyo Kasumigaoka Public Apartments
Capacity:30
Ticket:¥1500
March 6 (Sun) 16:30-18:00
March 13 (Sun) 16:30-18:00 ※18:00-19:00 After talk: Shinya Aoyama x Mika Kuraya
March 20 (Sun) 16:30-18:00
March 27 (Sun) 16:30-18:00 ※18:00-19:00 After talk:Yuito Yamamoto (Sociologist/curator)× Shinya Aoyama
April 3 (Sun) 12:00-13:30
Book ticket here
https://mujinto-tokyo2017-1.peatix.com/