Kenta Nishimura
SUBLIMATE
2014

6.14 -

2014

7.5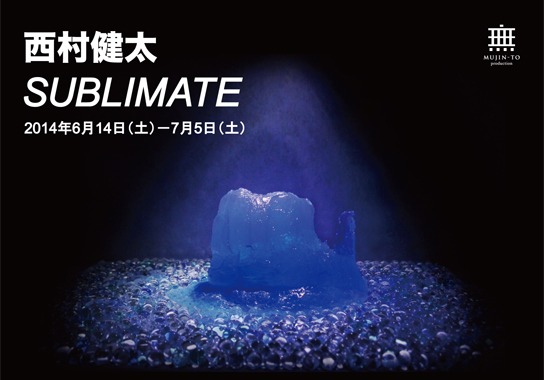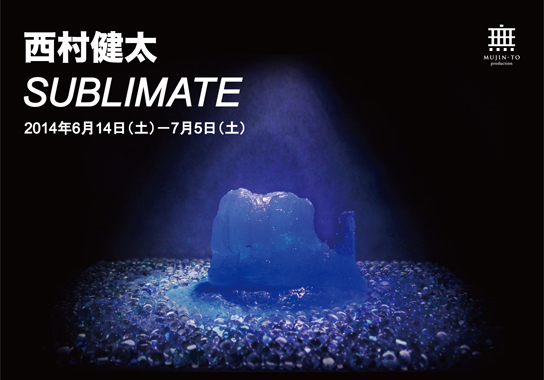 MUJIN-TO Production is pleased to announce Kenta Nishimura's solo exhibition "SUBLIMATE."
As a member of Tensai [genius] High-School workshop in Bigakko held by the Chim↑Pom leader Ryuta Ushiro, Nishimura has actively participated in various exhibitions including "TRANS ARTS TOKYO" (2012 and 2013, Tokyo Denki University Bldg.11, Tokyo) and "YAMAMOTO GENDAI Future Feature vol.6 | Tensai High-School!!!!" (2013, Yamamoto Gendai, Tokyo). "SUBLIMATE" marks his second solo exhibition and first solo appearance at MUJIN-TO Production.
Nishimura has mainly produced sculptural works using short-standing materials that go away along with consumption, such as bathwater additives and carpet cleaners. Focusing on the themes of "weathering" and "sublimation," the exhibition features a three-dimensional work "Monument" that uses air freshener gel shaped in the form of Monument Valley in the United States.
Monument Valley in Colorado Plateau can be seen as a symbol of "weathering" with a lot of eroded rocks scattered all around the area. Not only does "Monument" represent a natural phenomenon of gradual erosion, but it also symbolizes "weathering" of our memories and awareness even with historical accidents and disasters. However, there is a hope as weathering also reveals things hidden under the surface. The artist believes that people can depart from the past to discover and create something new in resurrection and renovation processes.
Throughout the exhibition period "Monument" never remains identical as air freshener gel keeps sublimating into the gas, spreading artificial odor that stimulates each visitor's personal memories and emotion. The contrast between weathering Monument Valley and sublimating "Monument" will remind viewers of passage of time and transformation of our memories.
Besides "Monument," the exhibition includes videos that capture passing time through weathering and accumulation and attempt at visualizing invisible phenomena of radiation and heartbeat, as well as silk screen series "Anniversary" in which the artist uses his blood to print his own "report of birth" and "report of death" which he himself can never submit.
The flow of time you feel in the exhibition will make you unconsciously synchronized to the artist's works and invite you to experience transformation of your own personal memories and awareness. Somewhere unreachable by the artist's control, what would it leave in your mind? We want you to come here and test it with your own experience.–
ーーーーー
A voice comes from above.
There is a huge forgotten mountain.
Everyone knows it.
We all desperately accumulate days not to be remembered,
forgetting our avoiding danger and shutting eyes and ears.
The mountain is buried in oblivion.
In the graduation of shared suspension, deception and amnesia
the foot of the mountain slopes gently with scraped surfaces,
transforming its existence into a crooked monument.
Still the voice never ceases.
It comes from above.
Then the road continues downward.
2014
Kenta NISHIMURA
ーーーーー
■ Kenta NISHIMURA
Born in 1988, lives and works in Saitama.
Selected group exhibitions;
2013 and 2012 "TRANS ARTS TOKYO," Tokyo Denki University Bldg.11, Tokyo
2013 "YAMAMOTO GENDAI Future Feature vol.6 | Tensai High-School!!!!," Yamamoto Gendai, Tokyo
Solo exhibition;
2012 "Re," Naonakamura, Tokyo