Osamu Matsuda
Screw It!
2023

3.24 -

2023

4.2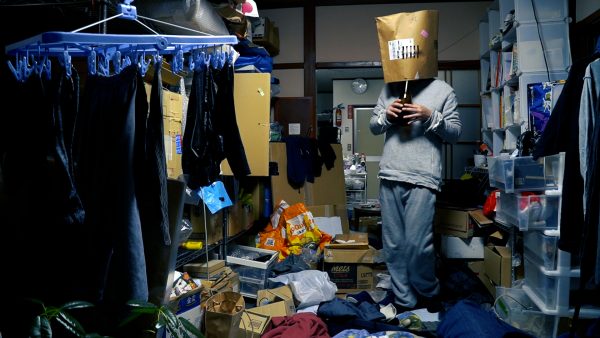 Friday, March 24 – Sunday, April 2, 2023
Mon – Fri 13:00―19:00 / Sat & Sun 12:00―18:00 (Open everyday during the exhibition period)
Venue: MUJIN-TO Production
Opening reception: Friday, March 24, 18:00-20:00
MUJIN-TO Production is pleased to announce Osamu Matsuda's solo exhibition "Screw It!"
This exhibition will be held just before the publication of Matsuda's first book, "Amajin" (Eastpress, scheduled to publish on April 20), and just before the closing of the "Roppongi Crossing 2022: Coming & Going" (Mori Art Museum), and before the novel coronavirus will be downgraded to "Class 5," the same category as seasonal influenza, on May 8.
In 2020, the spread of COVID-19 and the several emergency declarations that followed caused tension in people's lives, including the refraining from unnecessary outings. 3 years on, this has faded, and daily life is gradually returning, but the pre-pandemic lifestyle may still be a long way off. The impact of living with a mask for a long period of time became normal and the transition from meeting in-person to online is becoming more and more familiar. The transition to Class5 makes some people as active as before or even more active than before. On the other hand, there may be many more people who are tired of trying so hard, as the tension they have felt over the past few years from trying hard to cope with unfamiliar situations loosens.
This exhibition is a continuation of Matsuda's previous exhibition "Wrong Turn" held at the end of 2020 during the novel coronavirus disaster. If "Wrong Turn" was constructed with a group of works created during the confusion caused by the outbreak of the novel coronavirus and the declaration of a state of emergency, the new works in this exhibition are an attempt to present his view of the world found in his own territory during the time of the coronavirus disaster.The title of the exhibition was chosen by the artist as the words that would inspire and motivate him rather than a determination.
"I have not accepted the "new lifestyle" recommended by the government, but I am more confined to my apartment than I was when the state of emergency was declared. All my meetings are now online, I am addicted to online shopping that allows me to place orders without meeting anyone, I do my side work at home, not just my own production, and most importantly, the neighborhood bar I used to go has disappeared. (I'm consuming more alcohol by drinking at home, which means that "the bar" never closes.) The SEIYU store in front of the station, a 10-minute walk away, now feels like the other side of the world. However, I have never thought and imagined about my own and others' daily activities as much as I did during this period. Before the novel coronavirus disaster, I used to think to live and let live, but I often felt connected to someone else in my days during the pandemic. I meet people more consciously than before and empathized with people in similar circumstances. More than before, I came to believe that living and living itself is connected to art. And I even felt that my living space, which is much sloppier than before, was like a museum exclusively for me. In a sense, it was beautiful days. However, it was time for me to get out of this. It is not good to stay at home and get drunk all the time. The world outside is moving by the minute.
So, I decided to propose an exhibition that would fuse my bloated and delusional ideas with the sense of laziness. However, it takes a lot of energy to wake up the rusty body. Let me recite a famous phrase that even Kansai people do not say anymore: "Nanbo no Monjai! (Screw it!)"? It could mean "'I'm not going to lose, asshole! You got it, scum!" I guess it's like that. Is it the novel coronavirus, society, or myself that I am dealing with, or is it dawn or dusk when I wake up and head out? At any rate, I know that the only time I will truly feel that this was a "good time" is when I leave a good work behind."
March, 2023, Osamu Matsuda
The exhibition runs for very short time so please don't miss it!