Tsubasa Kato
(Drawing) Fractions of the Longest Distance [Vietnam⇅USA]
2018

1.13 -

2018

2.24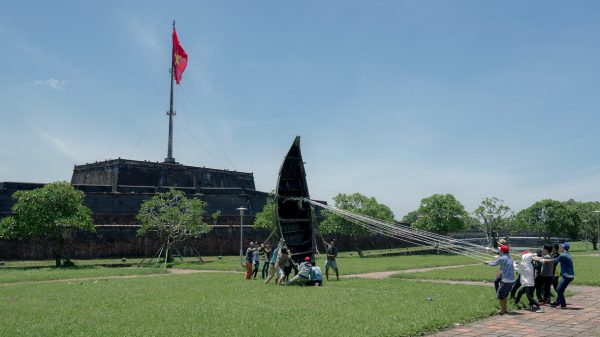 MUJIN-TO Production is pleased to announce Tsubasa Kato's solo exhibition "(Drawing) Fractions of the Longest Distance," presented in two separate sections.
The exhibition is Kato's first solo show since his return to Japan after participating in a two year residency in Seattle starting in 2015 under the Program of Overseas Study for Emerging Artists, supported by Japan's Agency for Cultural Affairs.
The title "(Drawing) Fractions of the Longest Distance" expresses the distance people moved in his works through the metaphor of the length of equator (40,000 km). The exhibition features all of Kato's projects of the past two years—collaborations in various places addressing the themes of "migration" and "distance."
During his two year stay in the U.S., Kato happened to witness in person how Trump used nativist, protectionist and anti-globalization rhetoric, as characterized by the slogan "America First," to create a wave of nationalism and clinch the election. The artist also observed the collision between the globalism advocated by developed countries and the anti-globalization backlash. The tension between these two movements is not limited to the U.S. alone— Kato noticed it at project sites in Mexico, Indonesia and Vietnam as well. In short, no one is immune to the effects of such global trends now. As a response to this reality, Kato focused on the unique situation of people living in each site—for example their varying degrees of mobility and freedom— as well as changes in their surroundings to create collaborative projects in diverse places.
Nations and communities in various forms all around the world today face increasing threats to their previous ways of existence by the strengthening of borders and boundaries, and consequent restrictions on mobility and freedom. Kato uses this fact as a catalyst to structure the exhibition according to the keywords "city," "street," "border," and "migration." The first part of the show, titled "Mexico City⇄Jakarta", features video works created in each city's streets. The second part, "Vietnam⇅USA," addresses the frame of the "nation" more directly. The works encapsulate a "fraction of each place's present," as seen through varying social conditions. Kato, however, doesn't directly question the ethical implications of these in his work, but rather uses the hints they give of each site's reality to stimulate the viewer's imagination towards the distance between "here" and "there."
The rise of IT has made it possible to connect with people all over the world via SNS and brought on an era in which one has overwhelming access to information. Even so, the world is still full of the incomprehensible. In this exhibition, we hope that viewers not only watch each work but also direct their imaginations at the unresolved world beyond the video frame.
Artwork description: Side-A: [Mexico City⇄Jakarta]