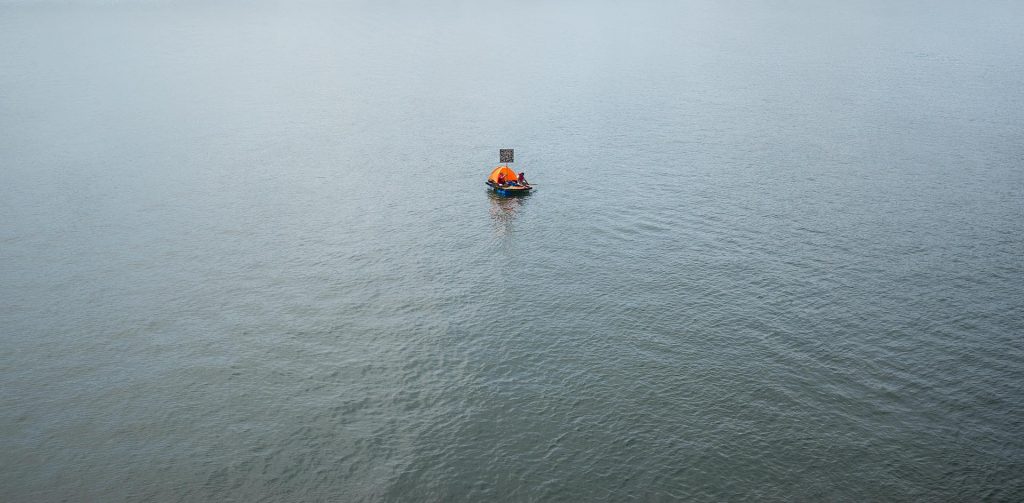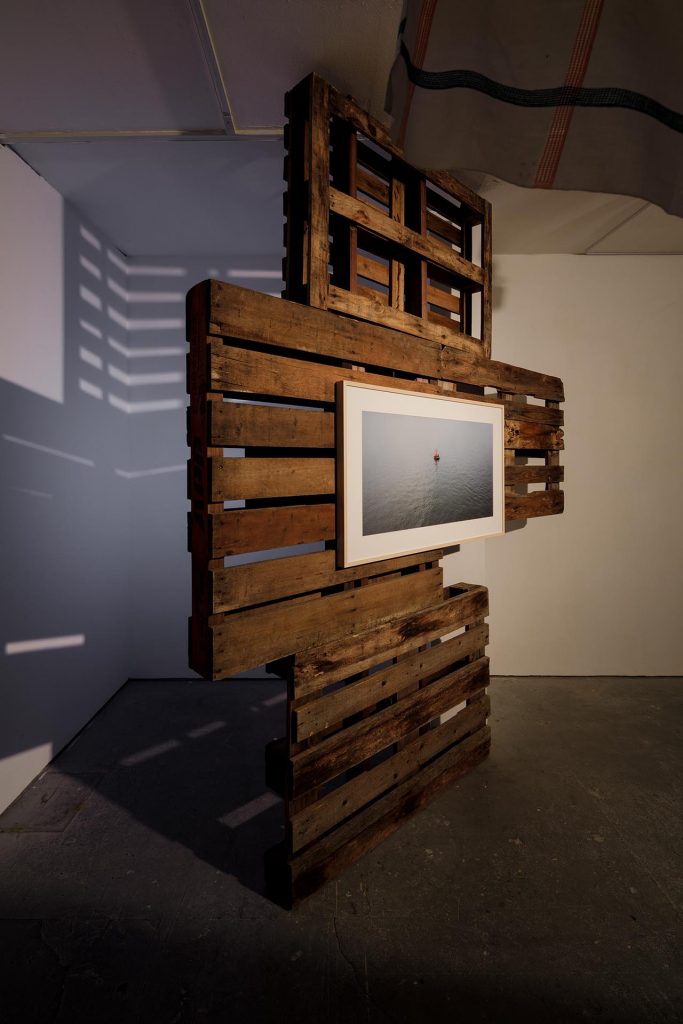 Installation view:(Drawing) Fractions of the Longest Distance [Mexico City ⇄ Jakarta], 2017, Venue: MUJIN-TO Production, Tokyo, Japan Photo: Kenji Morita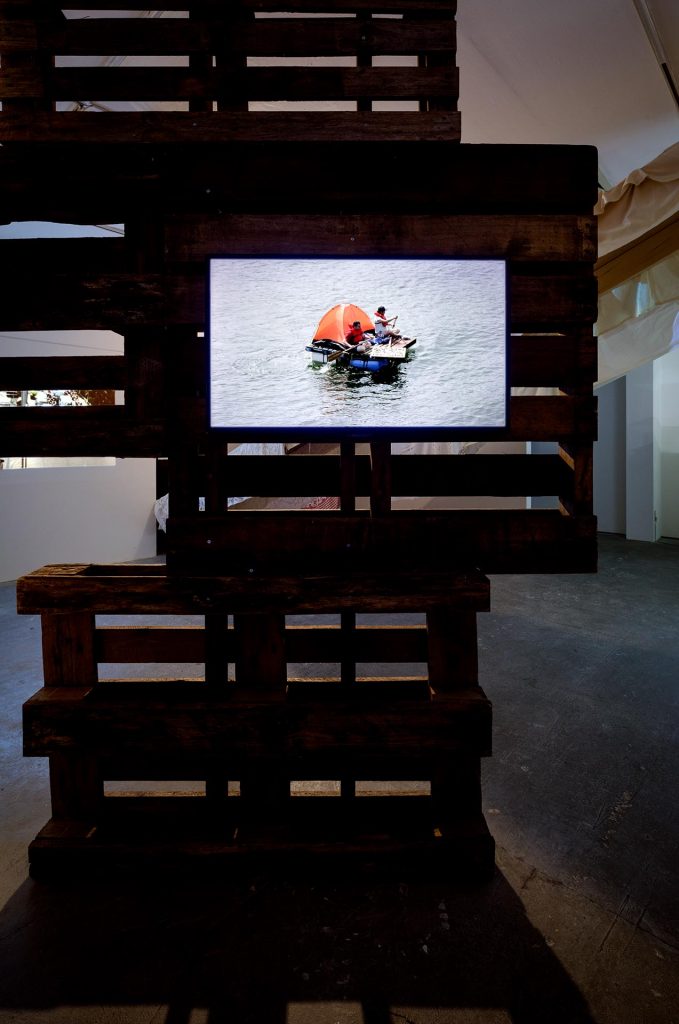 Installation view:(Drawing) Fractions of the Longest Distance [Mexico City ⇄ Jakarta], 2017, Venue: MUJIN-TO Production, Tokyo, Japan Photo: Kenji Morita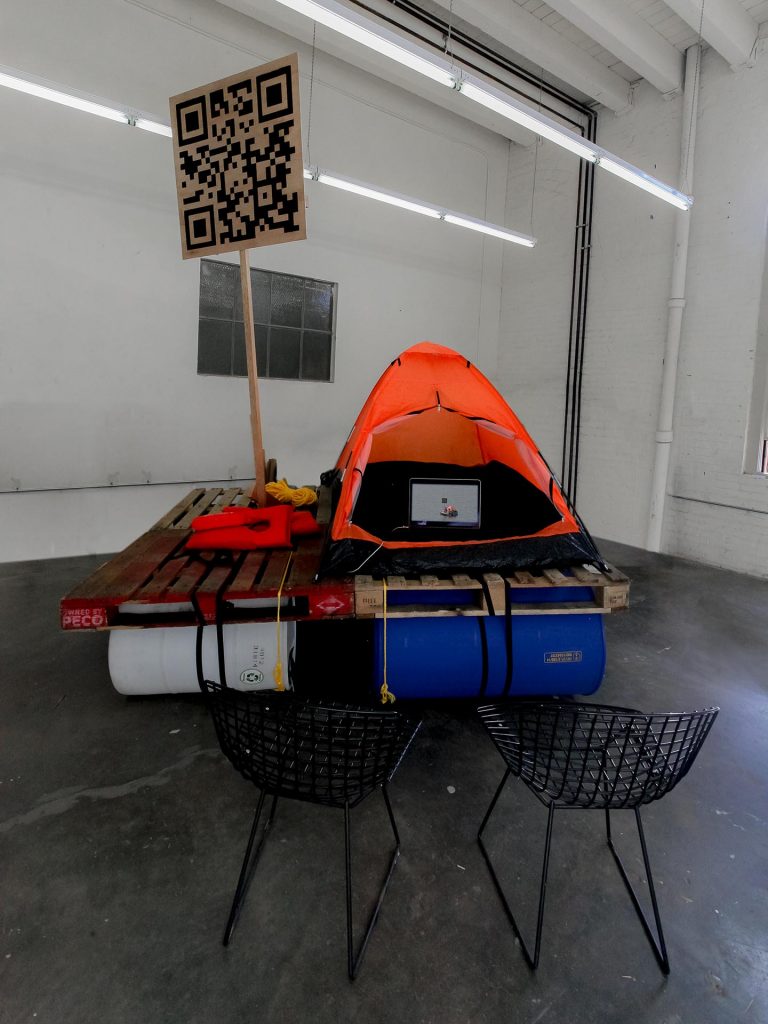 Installation view: End of Summer, 2016, Venue: Yale Union, Portland, USA
The Raft of ______ (2016)
video, lambda print
3 min. 39 sec., 44 x 90 cm, Filming by Matt Jay, Photographing by Yukari Hirano
2014─3,279 people. 2015─3,784 people. 2016─5,143 people. This is a breakdown of how many refugees have drowned in the Mediterranean Sea in the last three years. During 2016, an average of 14 people died each day. Up to now, there hasn't been a single boat that's made it safely from Libya to Europe (without being rescued along the way). Between Libya and Italy lies a distance of around 450 km; this fact, however, is often distorted. One human smuggler was reported to have told refugees that it was only a couple of hours to Europe ─ "like crossing a river."

I was on a boat one night off the Makassar Coast of Indonesia that was hit by a storm. The deck shook violently and I couldn't see a thing ─ the sea was pitch black. All of a sudden, a flash of lightning on the horizon revealed the roiling waves all around the ship. I'll never be able to forget the fear I felt at that moment. Now, when I walk on the riverside or cross the bridge near my house, I imagine the river emptying into the ocean, and eventually joining the Mediterranean or continuing all the way to Makassar. Perhaps right now, somewhere on the Mediterranean, a group of refugees on an inflatable boat are being beaten by the sun. Or, maybe the rain pours down from a charcoal sky, or waves roil all around them in the pitch black like from that night. There's a limit to this however: even if I try my best to imagine being on the Mediterranean based on the news reports and my past experiences, I still can't know what it feels like. If that's the case, then why not venture out on the water? Thinking this, I built an impromptu raft and tried drifting with a friend. Our materials were four 170 gallon plastic rain barrels, four wooden pallets, and a two person tent. Echoing the smuggler's words ─ "like crossing a river" ─ we departed. When our energy finally gave out, I used a QR code as an SOS signal to transmit the location of the raft.
As long as there are refugees dying in the seas, I'm keeping the domain linked to this QR code up. To continue the raft's drift on the internet, I move the pinned location daily. Just because we' re no longer there,
we can't say that someone else isn't. From the visual abstractness of water, I want the viewer to imagine the other side of the world — because the water that flows in the nearby river surely leads all the way to the Mediterranean.