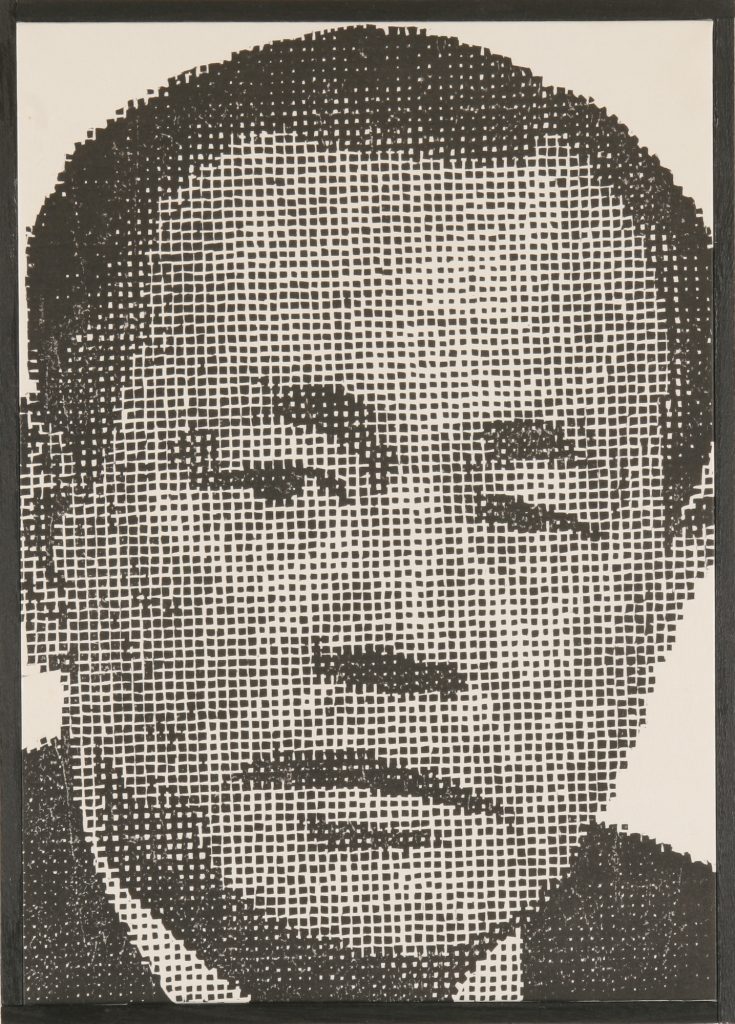 Kakuei-san, 44 x 31.5 cm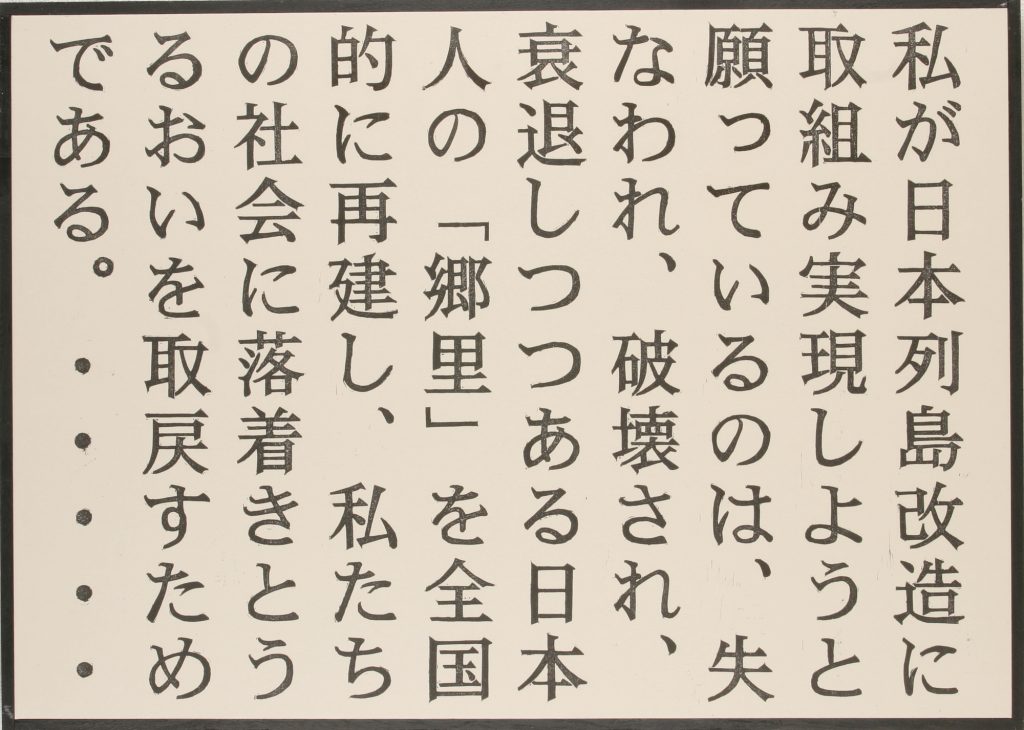 Slogan, 51.5 x 72.7 cm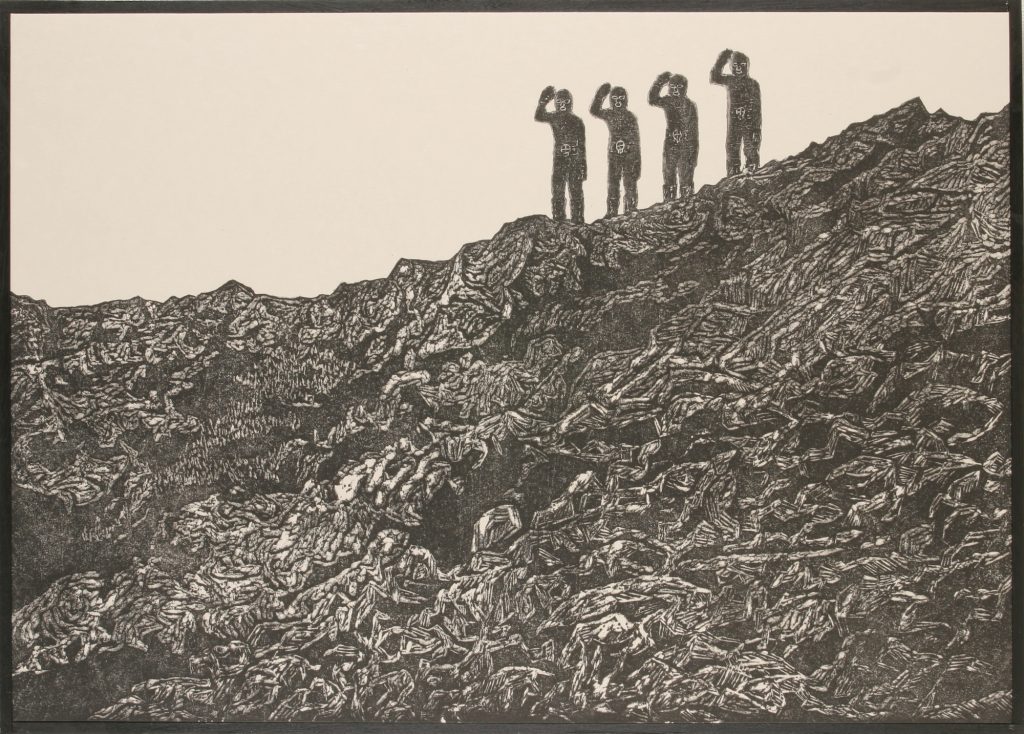 Yossha-Combatants, 53.5 x 74.5 cm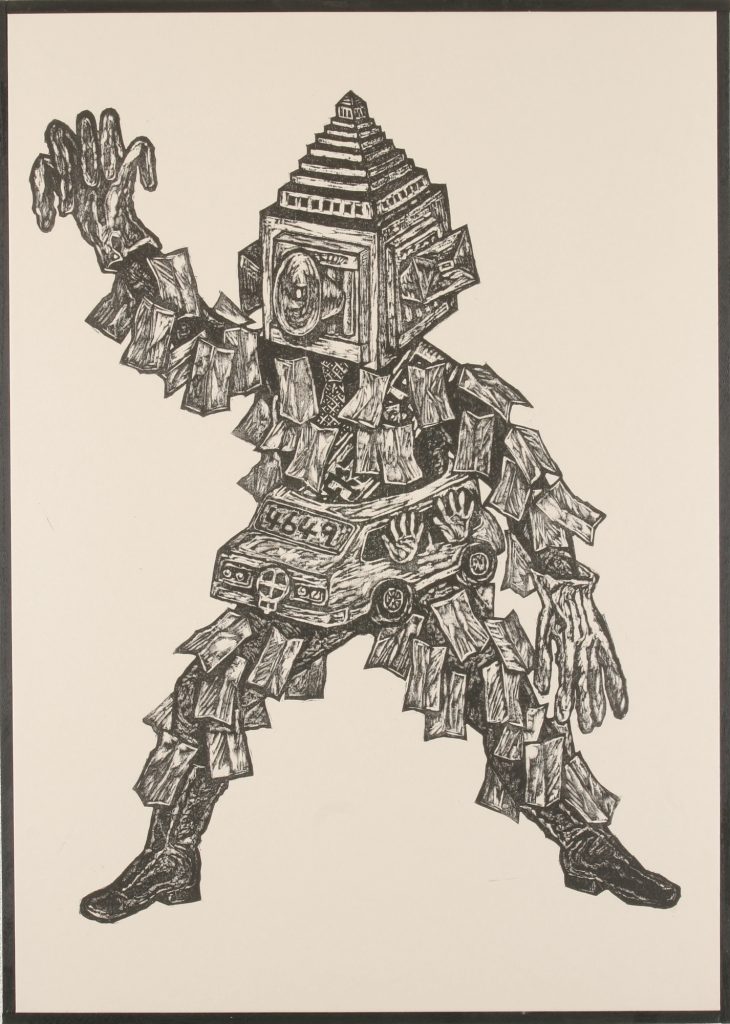 SENKYO-TERORU, 74.5 x 53.8 cm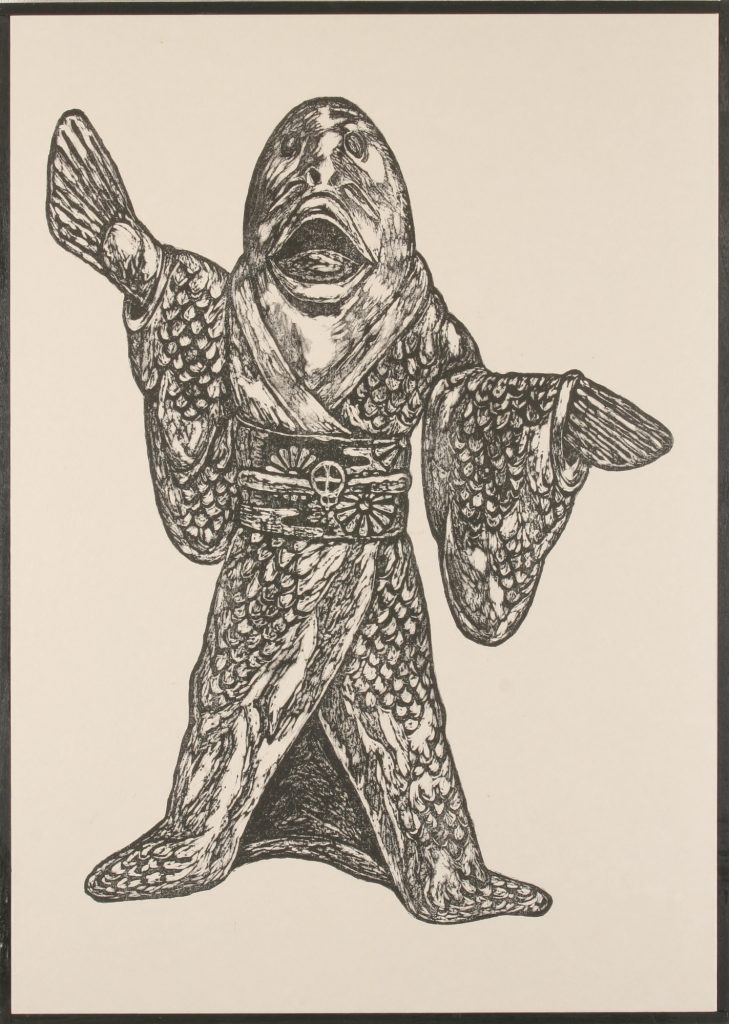 NISHIKIGOIN, 74.5 x 53.8 cm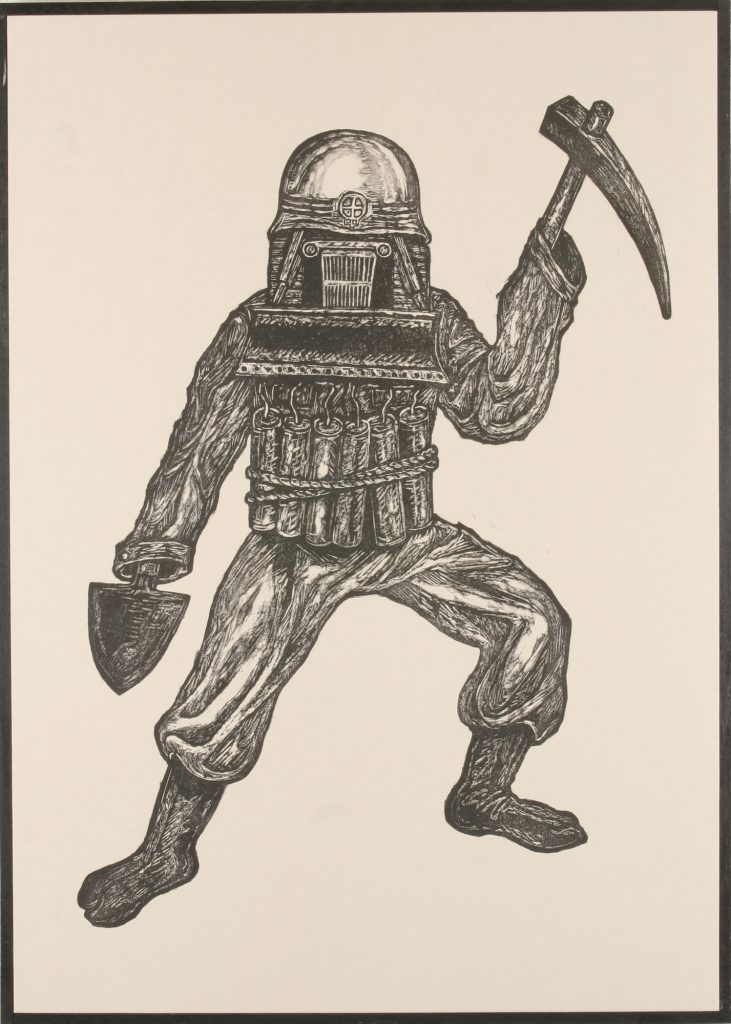 DOBOKKEN, 74.5 x 53.8 cm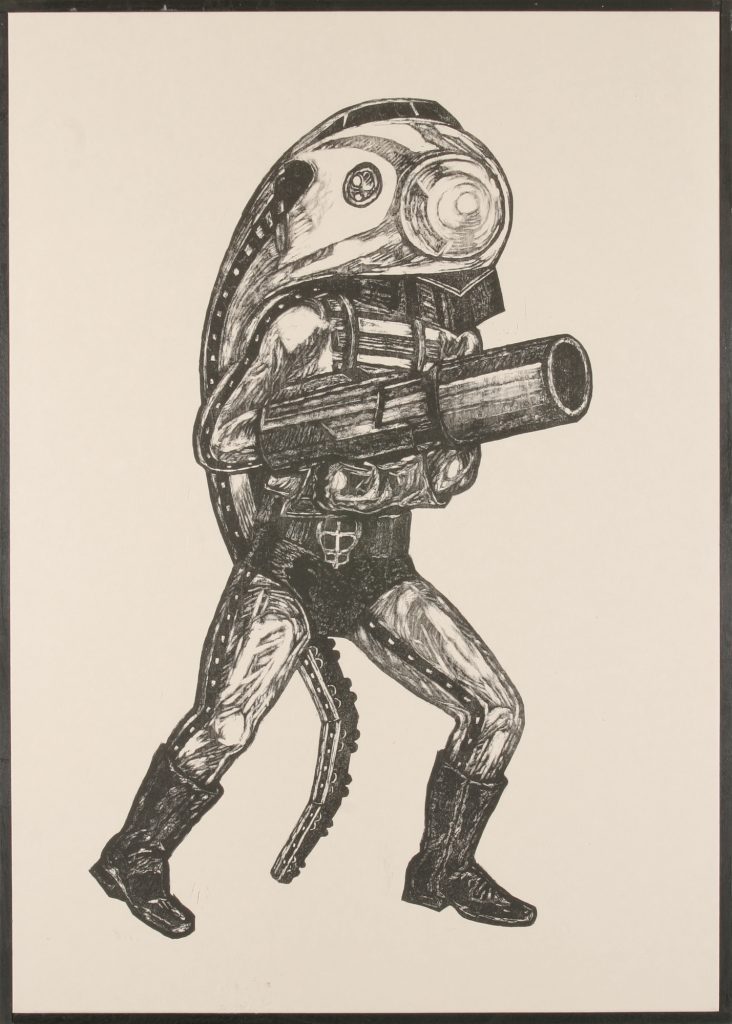 DANGAN-LESCHER, 74.5 x 53.8 cm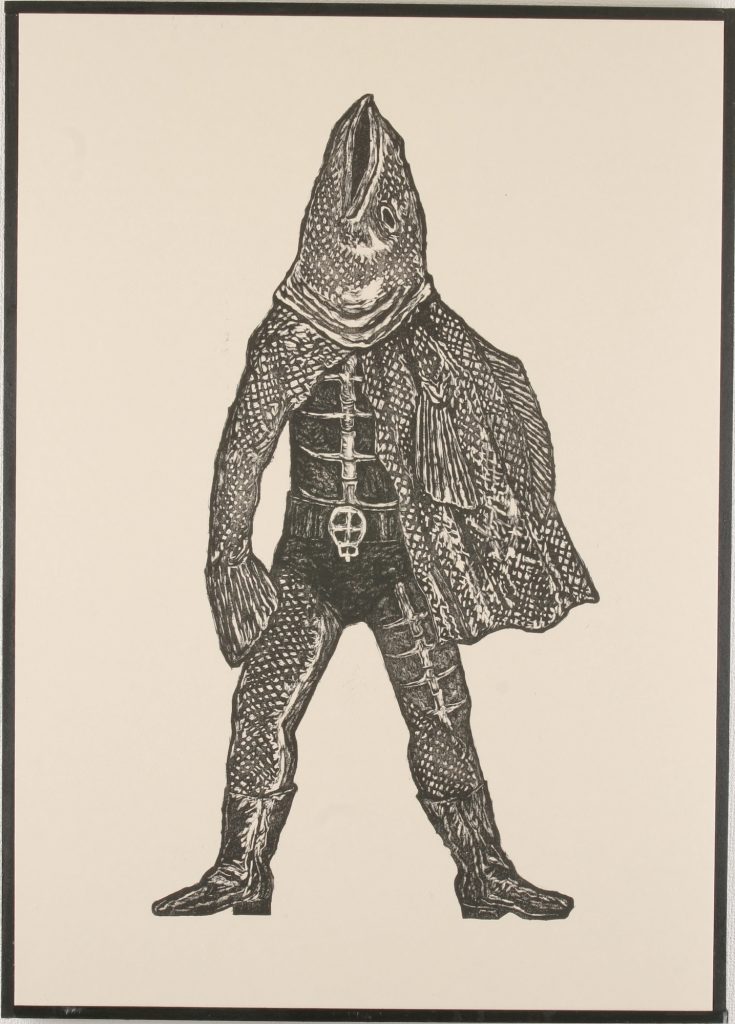 ARAJIRU-OTOKO, 74.5 x 53.8 cm
"Man for remodeling the Japanese archipelago" (2002)
woodcut print (panel, Japanese paper, sumi ink)

In 1972: in the book "Building a New Japan: A Plan for Remodeling the Japanese Archipelago," politician Kakuei Tanaka advocated "remodeling of the Japanese archipelago" through promoting construction of "blood vessels" (expressways, high-speed railways, and connecting bridges) in order to decentralize wealth (money and human resources) that had been concentrated in urban areas and dispersing these towards rural areas. The booming roar of bulldozers sounded as they promised this future promotion - however, despite of his vision, people continued to flow into urban cities and the infrastructure plan faced its limit due to uncontrollable human and nature.




Yossha-Combatants
The name of the combatants derives from a habit of the politician Kakuei Tanaka saying "Yossha, Yossha (okay, okay)" with lifting his hand, to express his consent.

SENKYO-TERORU
With natural-born charisma as well as his skill as a tactician, Kakuei Tanaka was called a vote-gathering machine and "Senkyo (election)" genius.

NISHIKIGOIN
This is a personification of a Nishikigoi (brocaded carp) which was kept in the pond of the Kakuei Tanaka's luxurious house "Mejiro Palace." The scene of his feeding the carps while wearing Geta (wooden sandals) is a famous iconic image.

DOBOKKEN
Kakuei Tanaka earned a nickname of "computerized bulldozer" due to his sharp brain and great energy. He left
with an impression of a "Doboku (civil engineering)" politician as he placed emphasis on the development of infrastructure.

DANGAN-LESCHER
Kakuei Tanaka had a grand ambition to make the Japanese archipelago smaller by reducing travel time through the Dangan Ressha (high-speed bullet train) "Shinkansen."

ARAJIRU-OTOKO
It was rumored that Kakuei Tanaka even after becoming prime minister, liked his native Niigata's traditional stew Noppei-jiru and often purchased cheap "Ara (bony parts)" of salmon at nearby fishmonger.