Lyota Yagi
Time Parallax
2013

4.13 -

2013

5.12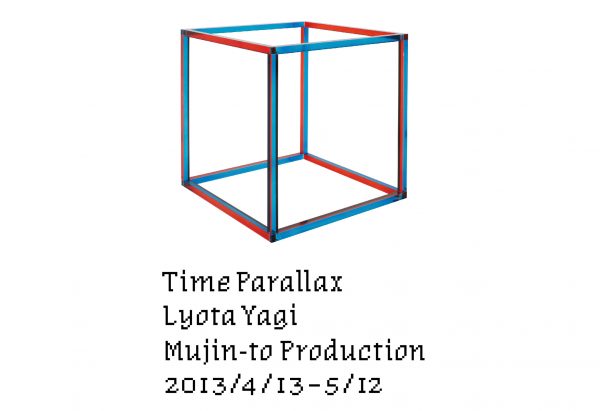 Lyota Yagi has presented his new series "Red and Blue" that explores viewers' stereoscopic parallax since last year.
"Red and Blue" works are viewed through 3D eyeglasses with red and blue colors respectively on each lens. Lyota has experimentally developed this methodology in silkscreen printing, video and sculptural works using cubic framework throughout a series of exhibitions including "Takamatsu Contemporary Art Annual vol.02" at Takamatsu city museum of Art, "Stepping Stone" at Oyama City Museum and "Print Art Triennale in Kyoto" at Kyoto Municipal Museum of Art.
Along with newly produced two-dimensional and three-dimensional works, Lyota also demonstrates his experimental work to diversify the viewer's visual perception by using 3D glasses with more color combinations than red and blue, as well as his attempt to visualize "time" using primary animation technique.
Projecting the originally two-dimensional gimmick of stereopsis (visual perception of depth) to three-dimensional objects, Lyota presents transition of human senses, inviting viewers to experience diversity of perception.
ーーーーー
Sound effectors such as "Reverb" or "Chorus" create virtual perception of auditory space by slightly shifting time. Would it be possible to do the same with the visual and extend our perception of space by creating such minor time shifts?
Using time parallax / color parallax / stereopsis applied to the three-dimensional, I want to question how we see things, which normally is taken for granted.
I think space is relevant to time in its scale and volume.
2013 Lyota Yagi
ーーーーー
In addition to "visualize the invisible / auralize the inaudible" as the structure that Lyota has so far employed in his works, this exhibition incorporates a new element "spatial dimension." The works themselves are executed in such simple forms that the viewers will be able to variously approach the multi-layered complex structure behind their appearances.
The idea of "printing," which had been only two-dimensional, has nowadays come to be applied to three-dimensional reproduction as typically represented by the 3D printer.
We believe his experimental process has significance in this present time when the concepts of two and three-dimensions intersect. Please come see Lyota's unique perspective on spatial dimensions and human senses.