Lyota Yagi
View from Higher Dimensions
2011

10.30 -

2011

11.19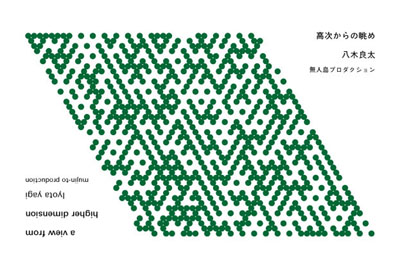 Mujinto Production is pleased to annouce Lyota Yagi's newexhibition"View from Higher Dimensions".
Having since last May stayed in NY for 6 month for ACC (Asian Cultural Council) artist-in-residence program, Lyota Yagi has energetically developed his artistic activities both in Japan and oversea. Attracting attentions globally, he recently participated in "MOT Anual" at Museum of Contemporary Art Tokyo, a group show in Budapest, "Yokohama Triennale"currently held in Yokohama, or International Ceramic Biennale 2011. The upcoming show is the first solo-exhibition since his return to Japan.
This show will demonstrate Yagi's thinking method that attempts to attain to a new vision through "series of dots" and "identical rhythm/repetition." Based on the idea that "objects in higher dimensions will appear only temporally in space, "he presents works such as" View from Higher Dimensions," a same titled work investigating temporal and partial presence through abstract forms; "Zero Gravity Rain," an installation of floating spheres moving regularly with sound; two-dimensional works utilising data-layers of CDs; or works visualising what one can't stop; flux" such as time or water.
The word "higher" in the title refers to dimensions higher than the three-dimensional. We are pleased to invite you to the view from higher dimensions via Yagi's thought.