Meiro Koizumi
Today My Empire Sings
2017

5.3 -

2017

5.11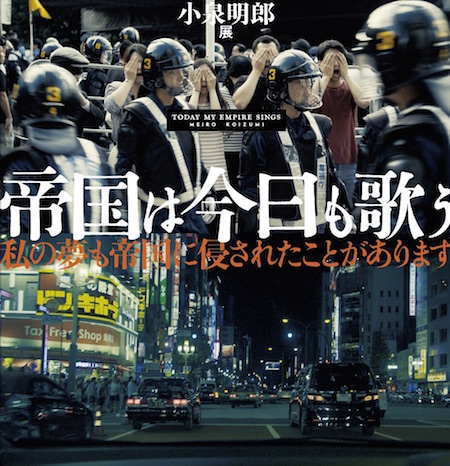 Venue: VACANT Admission: 500yen
MUJIN-TO Production and Studio Meiro Koizumi are pleased to announce a joint project "Today My Empire Sings," solo exhibition by Meiro Koizumi at VACANT in Harajuku, Tokyo.
The exhibition is to present the new video installation "Rite for a Dream – Today My Empire Sings –" for the first time in Japan. The installation had been exhibited at Koizumi's solo exhibition at De Hallen Haarlem in the Netherlands last year.
This work was filmed last summer in Tokyo to reveal the cultural violence hidden in daily life and a peculiar dream he'd had in his childhood as a starting point.
The story of Koizumi's dream recited by a performer and the layers of scenes of the reality in which intoxication to violence and heroism underlying in nationalism are overlapped in this work and together, it invites audience to other dimension, where false and truth are interplayed and it is not clear if it is either dream or reality.
In recent years, Koizumi had been creating number of works themed on nationalism in Japanese society. In his solo exhibition "Air" at MUJIN-TO Production in 2016, Koizumi showed the works to turn consciousness to various rites unfolding everyday which surround the body and existence of the Emperor of Japan by depicting the Emperor as transparent presence on canvas.
On view this time, "Rite for a Dream – Today My Empire Sings –" is the work drawn the theme of nationalism closer to the personal history of Koizumi.
My father, a devout Christian, who is now 76, saw one of my collages featuring the Emperor at my studio.
In this collage work, I drew anatomical drawings over the Emperor's body. The moment he saw the work, his face froze, and he fell silent. A few days later, he called me on the phone, and confessed that the moment he saw the drawing, he felt hurt. He didn't understand why he felt hurt, but he felt something important within him was dishonored.
All his life, he has rejected the Emperor. All his life, he has believed in the Christian God. All his life, he has believed the Christian God was the only God.
Yet, at the age of 76, he found the Emperor within himself…
(from Koizumi's statement for this exhibition)
Sometimes fiction predicts future and reality surpasses imagination in this world.
In an era like today, when social atmosphere and peer pressure are felt more and more suffocating, what one may feel at this exhibition? It might be a fantastical experience of peeping depth of a dream or feeling like softly being touched the membrane of internal organs.
Please step into the space created by the artist and feel the social pressure expressed by overwhelmingly beautiful visual and sound.
MUJIN-TO Production + Studio Meiro Koizumi
<Talk Event>
4 May 15:30 – 17:00(open 15:00/start 15:30)
Takeshi Hara(Political Scientist) × Naoya Fujita(SF writer・literature critic) × Meiro Koizumi
6 May 18:30 – 20:00(open 18:00/start 18:30)
Makoto Aida(Artist)× Meiro Koizumi
Admission:1,500yen(1drink)
* The exhibition is not available to view during the talk event. Entry till 14:30 and closes 15:00 on 4 May and entry till 17:30 and closes 18:00 on 6 May. Please check the opening hours prior to plan the visit.