Chim↑Pom
YAJIRUSHISOVIETORU
2014

11.1 -

2014

11.29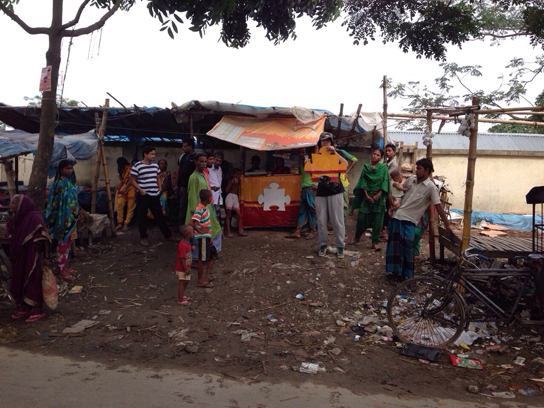 MUJIN-TO Production is pleased to announce Chim↑Pom's solo exhibition, "YAJIRUSHISOVIETORU," opening on November 1st.
The exhibition will be Chim↑Pom's first solo show at MUJIN-TO Production in three years since "REAL TIMES" and "SURVIVAL DANCE" both in 2011. This time, again, their installation takes place not only on the floor but extends to the entrance, beyond the ceiling and the office area.
The notion of "Border" plays the key role in this exhibition. Chim↑Pom has been addressing this concept through the process of executing two of their solo shows in 2011: "Turning Around," a group show curated by Chim↑Pom at Watari-Um Museum in 2012 and their on-going project, the unviewable international exhibition, "Don't Follow the Wind," which will open in the difficult-to-return zone in Fukushima in the coming year.
This summer, Chim↑Pom showed a video installation titled "Coyote" which literally "cancels" participating in an exhibition at Friedman Benda Gallery, New York. The work was based on the issue of one of the Chim↑Pom members Ellie had been dealing with American immigration, and is also a quote of Joseph Beuys's performance in 1974, "Coyote – I Like America and America Likes Me." The installation features "Coyote" -a slang meaning "immigration smugglers around the border between Mexico"– and sheds light on the problems of immigration system, tightened security since 9.11 as well as illegal immigrants. This installation gave perspective to Chim↑Pom to deepen the idea of "Border".
Chim↑Pom places "Puzzle" and "Paradox" as important factors of this exhibition; In fact, "Puzzle" pieces are often featured in Chim↑Pom's works since "SURVIVAL DANCE". First appeared in 2011 as a reflection of social situation in the form of broken puzzle pieces made with white wall of art gallery, at this exhibition, the puzzles become reconstruction of broken pieces taken from various locations, which replaced by the gallery wall pieces.
The concept of "Paradox" exists as the solution to a questions in contrast to "puzzle" in terms of logic theory(*): Not only one answer to a question exists, yet there answers not being able to measure in black and white as well as countless opinions from everywhere around the world. While trying to unify the scattered pieces into a "Puzzle," Chim↑Pom suggests the importance of such phenomenon. At the same time, in reality, borders that separate two parties consistently exist in society. Borders that had been drawn between territories, art and obscenity, urban and rural or difficult-to-return zone in Fukushima are becoming more and more obvious. It seems that the wall of border is getting higher in the uniformed value set by Globalism.
Through these new works, Chim↑Pom not only consider borders in reality such as ones between nations, legal and illegal or history and social situation, but also extends the idea of it to the thoughts, concept of life and death and differences between cultures or languages. In this exhibition, the further advance of Chim↑Pom"s idea challenges the society as provocative expressionists.
The viewers will be challenged even before seeing the exhibition as the entrance to the gallery is closed; One may take it as the border of inside and outside or exclusiveness of the art world.
* In logic theory, seeking the solution to a problem, there are three (or four) types of problems: "Puzzle," as the question concludes with one exclusive solution, "dilemma," as possible solutions contradicts with each other, and "paradox, as a mystic question with no definitive answer despite of its appearance to be easily solved with logic (and last one is "riddle" that requires some soft of pun-like solution)