Sachiko Kazama
PUCHI-BURU (Petit Bourgeois)
2014

1.9 -

2014

1.19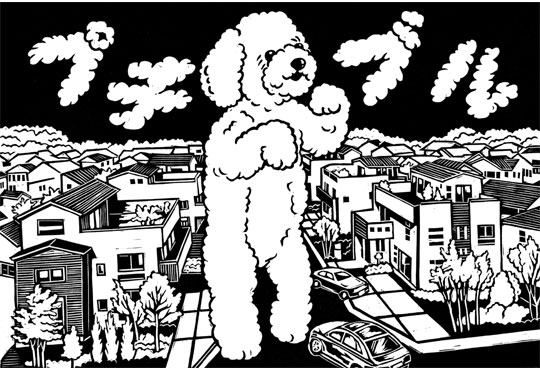 MUJIN-TO Production is pleased to present "PUCHI-BURU," an exhibition of early works by Sachiko Kazama.
A Tokyo-based artist specialized in woodblock printmaking, Kazama is known for her distinctive style often reminiscent of the long tradition of Japanese popular print culture from Ukiyo-e to Manga. Contrary to the idea of printmaking primarily as a means of reproduction, Kazama produces only one print for each work. For Kazama, woodblock printmaking is a means to distance herself from motifs, which allows her to realize strong emotion and calm observation simultaneously in the work.
While her works appear sometimes comical and playful, other times subtle and beautiful, a closer look reveals that all her works always express her serious inspection in contemporary society and severe criticism against the unchanged nature of authority. Through careful investigation into historical continuity, Kazama overlaps the past and the present and creates almost absurd fictional scenes, as if warning us of looming dystopian futures. Just as negative and positive are inverted in printmaking process, Kazama digs out lies from the truth, and vice versa.
"PUCHI-BURU" exhibition features Kazama's early works from her first solo-exhibition in 1998 to 2003, demonstrating her artistic core consistent since the very beginning. Focusing on perhaps the most materially wealthiest "Japanese middle-class," Kazama in this period explicitly explores themes such as the myth of growth, consumption and colonialism, and commodification of nature, distilling the essence of mature capitalist society and its negative consequences that have now been global concerns. The recent revival of economic nationalism in Japan also exemplifies stubborn continuity of those fundamental issues as well as significance of Kazama's early works to this day.
"PUCHI-BURU" exhibition will become a key to understand not only Kazama's unique oeuvre but also society, systems and values we take for granted. Although the period is only 11 days, we are really looking forward to welcoming you. Please come and see us at the exhibition.