Chim↑Pom
SUPER☆RAT
2006

12.8 -

2007

1.20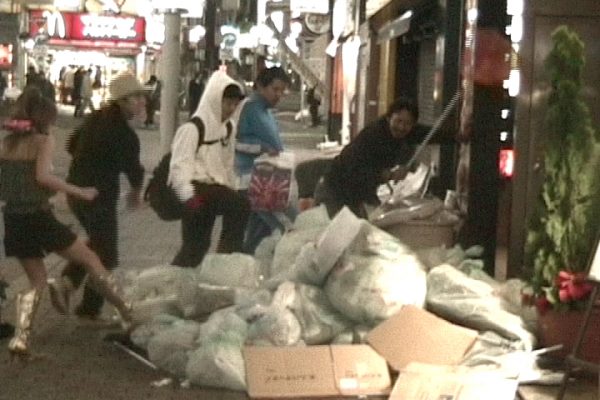 Like a rat…
Rats are living in human society with the ability to adapt themselves to even poison.
Also there are some guys who are trying to orient themselves to the society insistently like rats.
They are the "Chim↑Pom"!
"Chim↑Pom" their first one-man show's
"Super Rats" show will take place at MUJIN-TO Production.
Mujin-to Production are holing our second exhibition following the Yagi Ryota show and it will be the first one-man show for this 6-piece group called "Chim↑Pom" starting from 8th of December.
The "Chim↑Pom" are the 6 piece "Art Solders" in 20's and were formed in 2005. In fall 2005, when the artist Makoto Aida held his personal exhibition in San Francisco, "Chim↑Pom" displayed their work at the part of the venue and it was their sensational debut to art society. This show will be the first release of their works since last year.
The theme they chose for their first show is "Super Rats" taking up residence in city. Although rats are hated by human society, they mutated into a body to adapt to poison to coexist with human and now rats are full of the energy of life to multiply and flood in city. The "Super Rats" refers to the contemporary pop culture "Super Flat" and as you can see from the title, stuffed animals of Pikachu originally caught Shibuya are going to be displayed at the show.
There are many artists in past and present art scenes that have displayed or released "Live animals" or "dead animals (stuffed animals)" as their works. The most famous and representative work displayed "live animals" is called the "Arte Povera (poor art)" in Italy by Jannis Kounellis who is the representative artist for Art movement and he displayed a "live horse". Also there are many artists who have displayed stuffed animals, for example, an Italian artist Maurizio Cattelan released the work "The Ballad of Trotsky" in the 90's and the stuffed horse was hanged from the ceiling.
Although the work's scale is different from the famous artist's ones as discussed above, we believe that Chim↑Pom who are little-known in the art society are trying to raise a small revolution against today's society or art scene by displaying rats which are hated by human society.
What they are expressing is two concepts, which are one of them is the ideal in today's human society and the another is the reality that the things cut off by the ideal are increasing.
By finalizing rats which are referred to as a stubborn symbol as well as cockroaches to be pop and modern, they are trying to highlight the construct of coexistence that is worked out when one another tries to survive for its life and production by whatever means.
In addition, their first DVD "Chim↑Pom:P.T.A." are going to be released in conjunction with this show.
This DVD is concentrated excessive energies which apparently seem worthless and it is a double release which includes the album version with full length and the single-cut version of "ERIGERO". The programs on the DVD are such as "ERIGERO" which keeps vomiting with a smile after drinking up pink liquids during a drink-up call, "BRUTUS" that the member who failed the art college entrance exam attacks to a plaster bust and "I'm sorry USA" which is the tragedy (comedy?) happened at the Golden Gate Bridge in San Francisco and etc.
First of all, please watch this DVD and buy it. Then feel the lives and energies of this 6 young men/women in today's Tokyo through the images as well as the show.
This is their first show with the motivation under the solid enthusiasm of "Because we have no money, no work and no family, now Chim↑Pom, we all just have to do it!"
"If we have no future too↓, it's hopeless↑" by Chim↑Pom
※"Super rat" means a black rat which is resistant to a mouse poison to kill a rat. After exterminating them with same poison for long tract of years, they adapted to poison and don't die easily even after eating poison.
Black rats which have such a high-level ability to learn are breaking into houses and restaurants in city or downtown areas and increasing damage.