Osamu Matsuda
You Know, You Know
2017

7.15 -

2017

8.12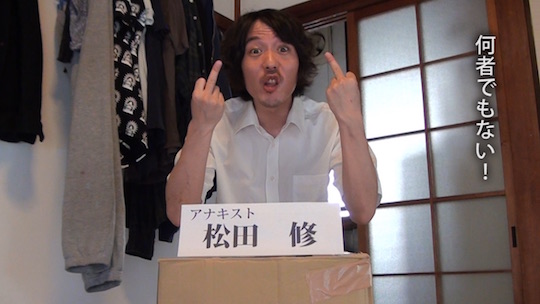 MUJIN-TO Production is pleased to announce Osamu Matsuda's solo exhibition, "You Know, You Know."
Matsuda has been looking at various issues in society based on his atypical background, and has been bringing this unique point of view in his art making.
He uses different methods and ways of expressing such as creating a counter for the current society, or portraying his conflicted love towards art. However, all his works are driven by the same question about the nature and universality of humankind.
This time, Matsuda brought his focus to "those people or things that exist, but are not yet categorized and are not easily searched on the Internet."
Up until now, Matsuda has created work based on serial killers or hermits, in other words, the minorities and those who live alone in the shadow. However, in his creation process, Matsuda started to question that maybe he is the one who violently categorizes them and actively looks for these particular group of people for his art. And maybe the whole society has been heavily influenced by "words," "ideologies," or "impressions" that are based on assumptions and fixed templates. Hence, the purpose of this exhibition became about "those still unnamed" as an attempt to escape from "prejudice" or "set beliefs."
With this, we will be exhibiting various works including a video piece "Goodbye Ideologists," where Matsuda plays the role of different "ideologists" to bring a cynical view to "those stereotypical ideologists." Another video piece "【Evil】Nobody knows【Passions】" shows 108 desires (!) told by a female office worker Matsuda randomly met. "This World on the Belly" depicts social issues such as economic disparity and class systems that have been historicized for millenniums. A series of drawings, "Normal Already" references artworks of Raymond Pettibon from the punk movement in the 80s, United States, as a way to explore how "movements in the past" have become "normalized" due to high-speed consumption of information every day.
All these works humorously portray Matsuda's desperate attempt to liberate himself from the "categorized" and "fixed" society.
As Matsuda puts it, "If you try to escape from the categorization that naturally and unconsciously haunts your mind, it will be ugly, humiliating, and demanding; but somewhere in our minds, we all know that this uncomfortable process is necessary if we want to see a new picture."
So, what do we really know and what do we not know? We welcome you to this exhibition to see Matsuda's "awkward and ridiculous" endeavor to break free from the norm.
<Related Events>
Talk Event
22 July 17:30- (open 17:00)
Osamu Matsuda, Hiroya Koto, Joji Nakamura
Live Concert
5 August 18:00- (open 17:30)
Osamu Matsuda and Torio-the-Hokei
Admission: 500yen
※The exhibition is not available to view after 16:30 on July 22nd, and after 17:00 on August 5th. Please check the opening hours prior to plan the visit.