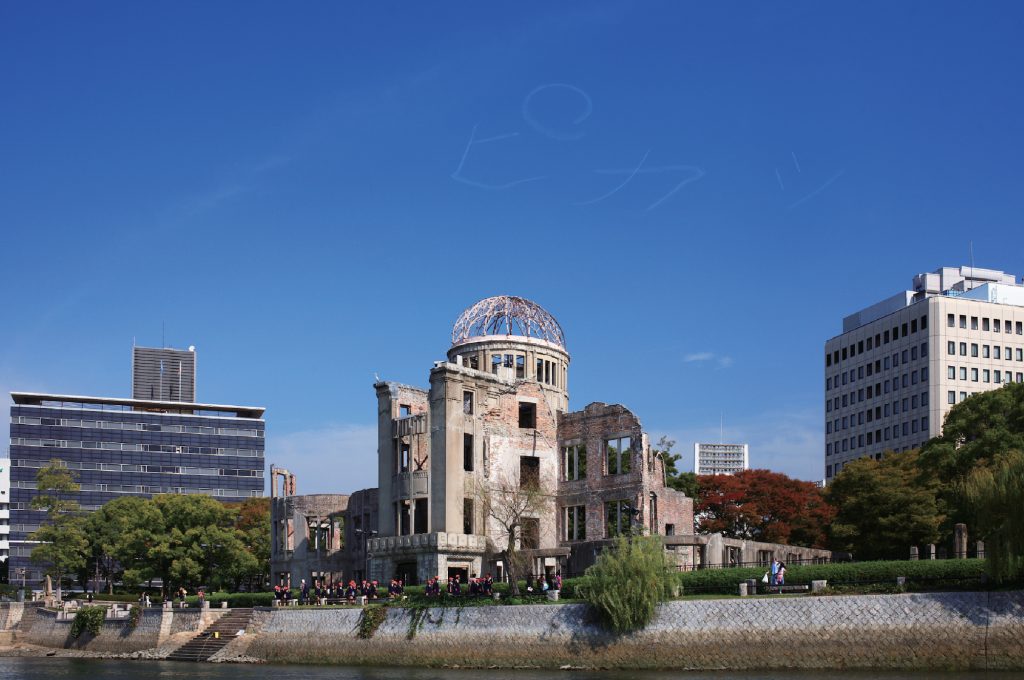 Making the Sky of Hiroshima "PIKA!", photo: Cactus Nakao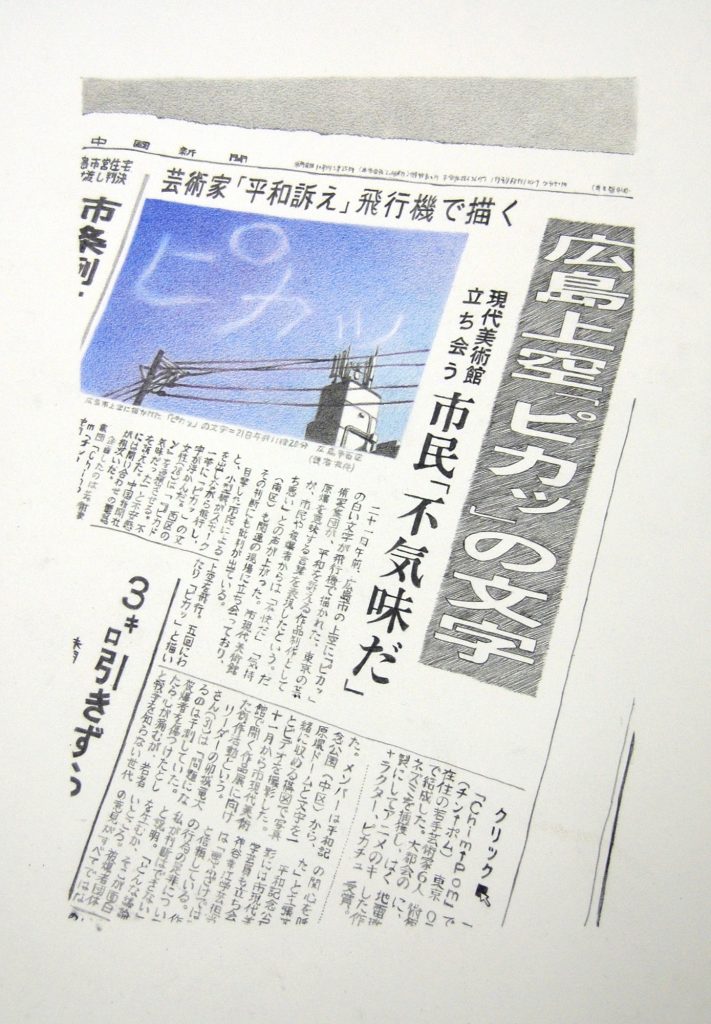 Untitled, Cooperation: Kenji Itagaki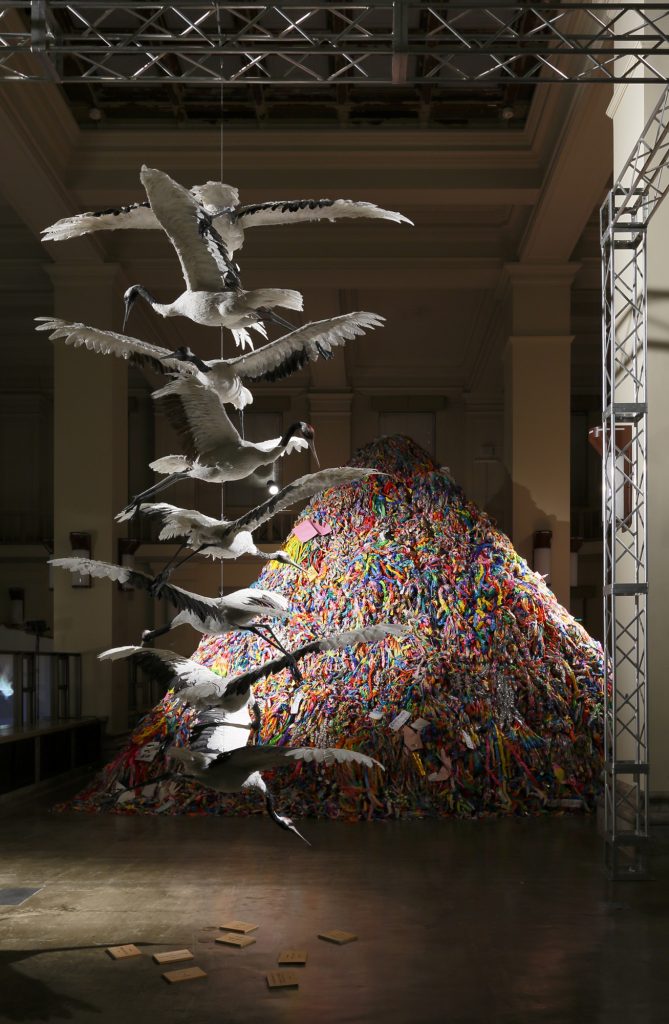 Real Thousand Cranes, photo: Kenji Morita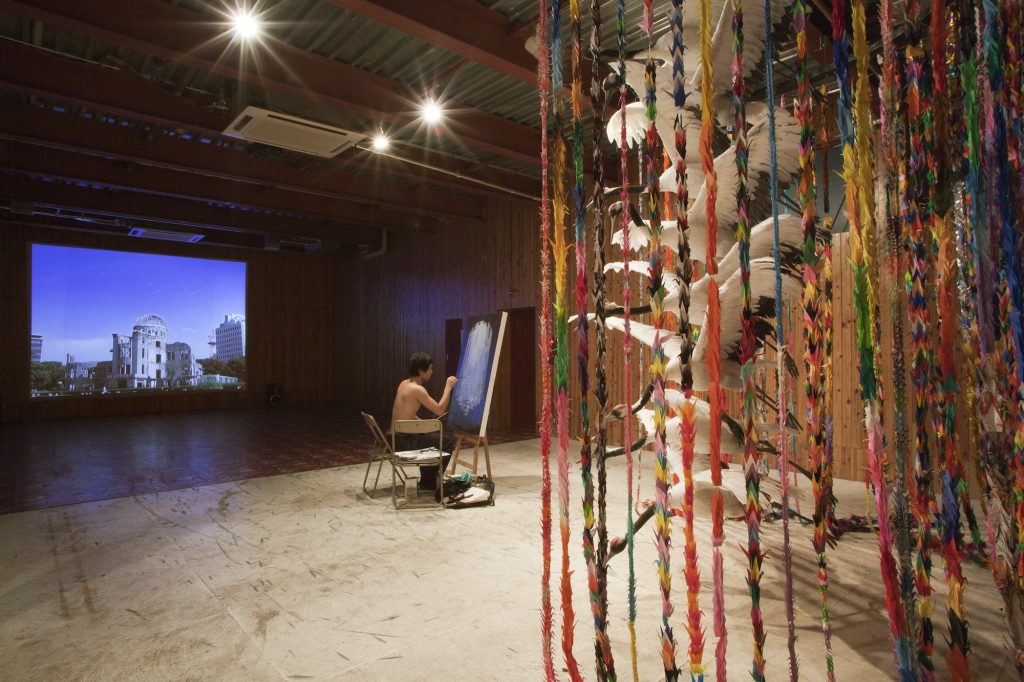 Installation view "HIROSHIMA!" Vacant、2009 photo: Kenji Morita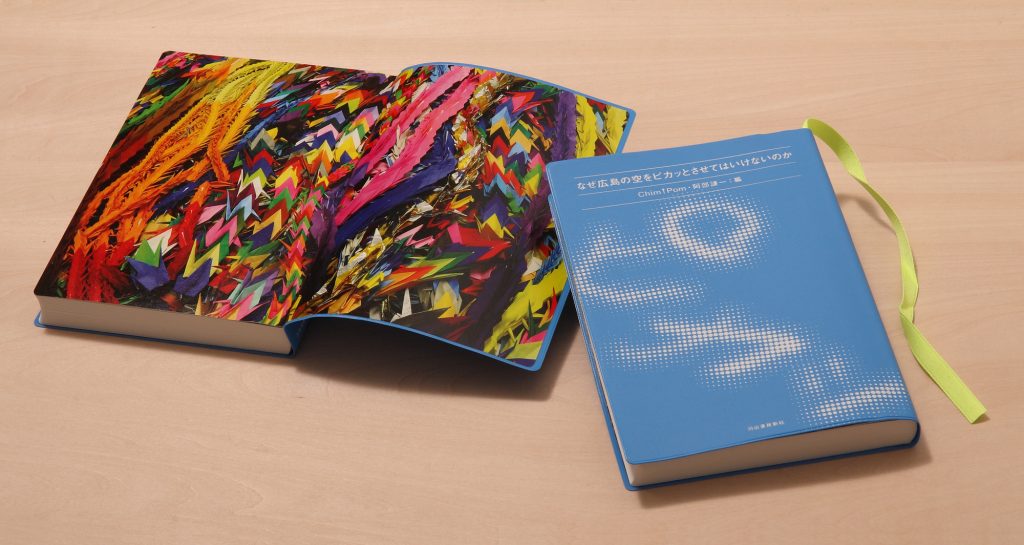 Why Can't We Make the Sky of Hiroshima "PIKA!"?, edited by Chim↑Pom+Kenichi Abe(MUJIN-TO Production, 2009)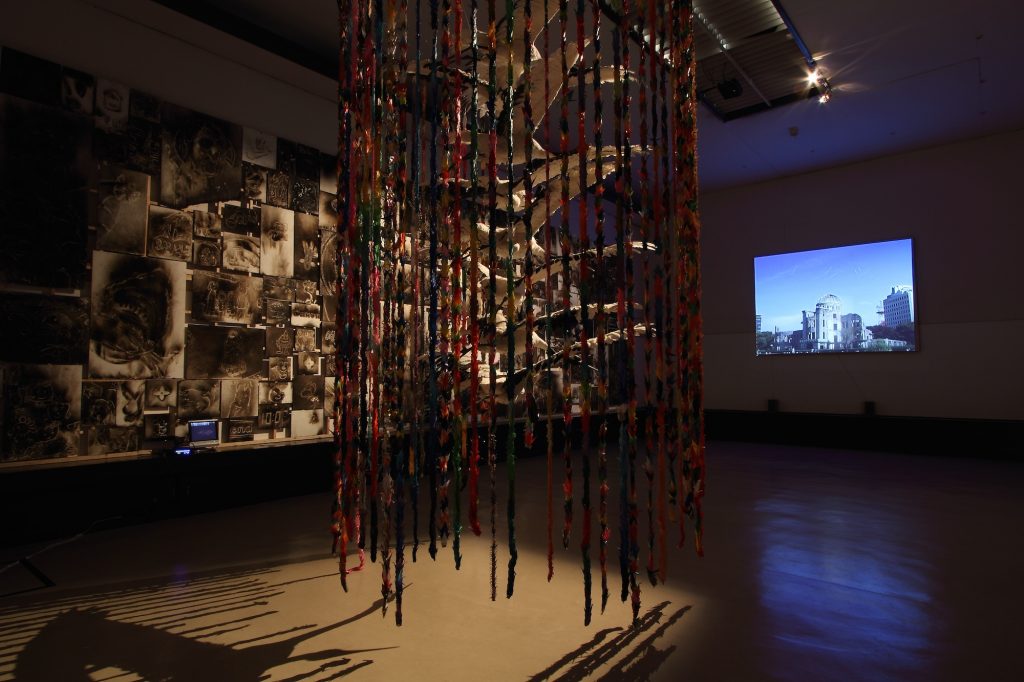 Installation view: "LEVEL 7 feat. 'Hiroshima!!!!'", Maruki Gallery for Hiroshima Panels, 2011, photo: Kei Miyajima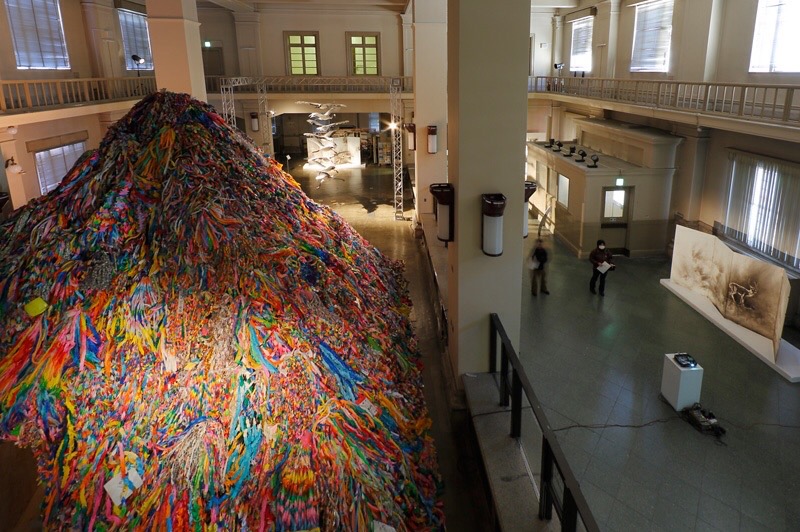 Installation view: "Hiroshima!!!!!", The former Bank of Japan Hiroshima Branch, 2013, photo: Kenji Morita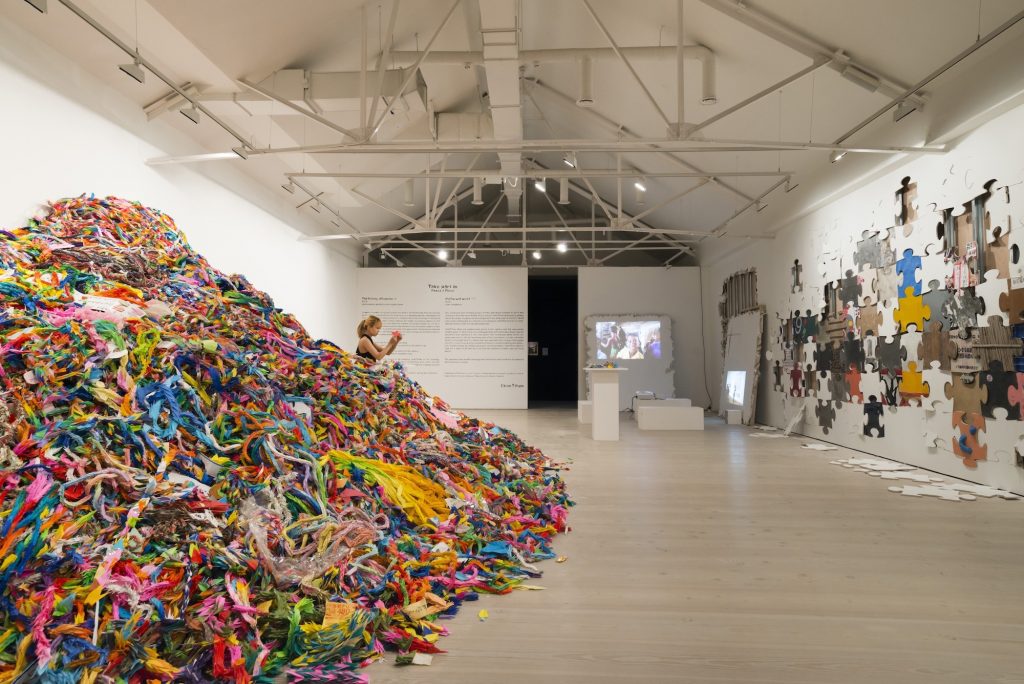 The History of Human, Saatch Gallery, London, photo: Taisuke Koyama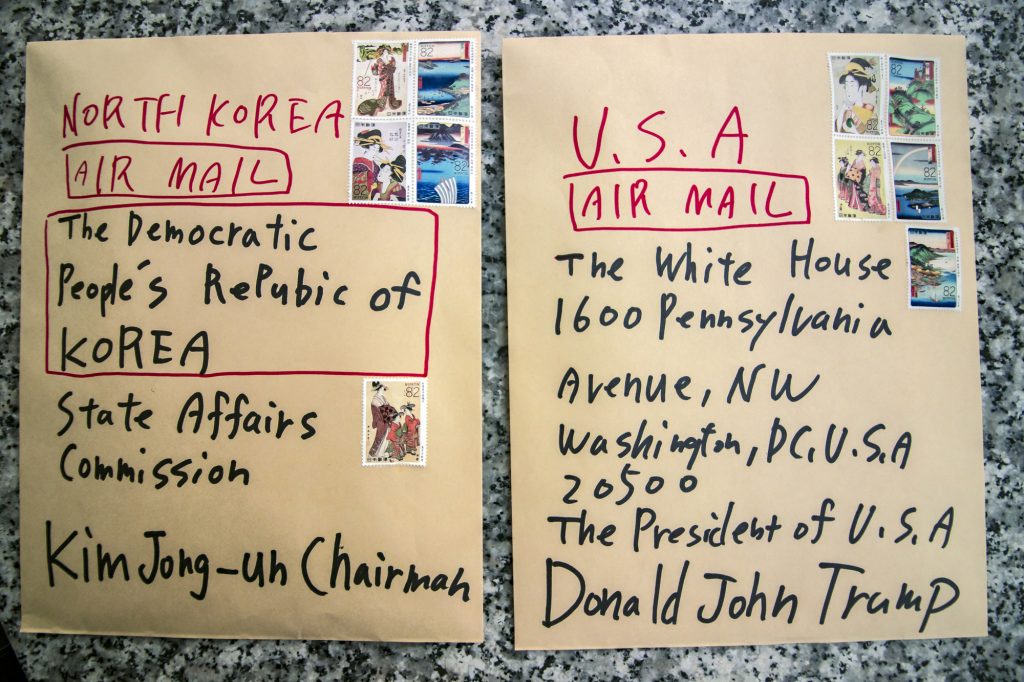 Postal service connects the Whole world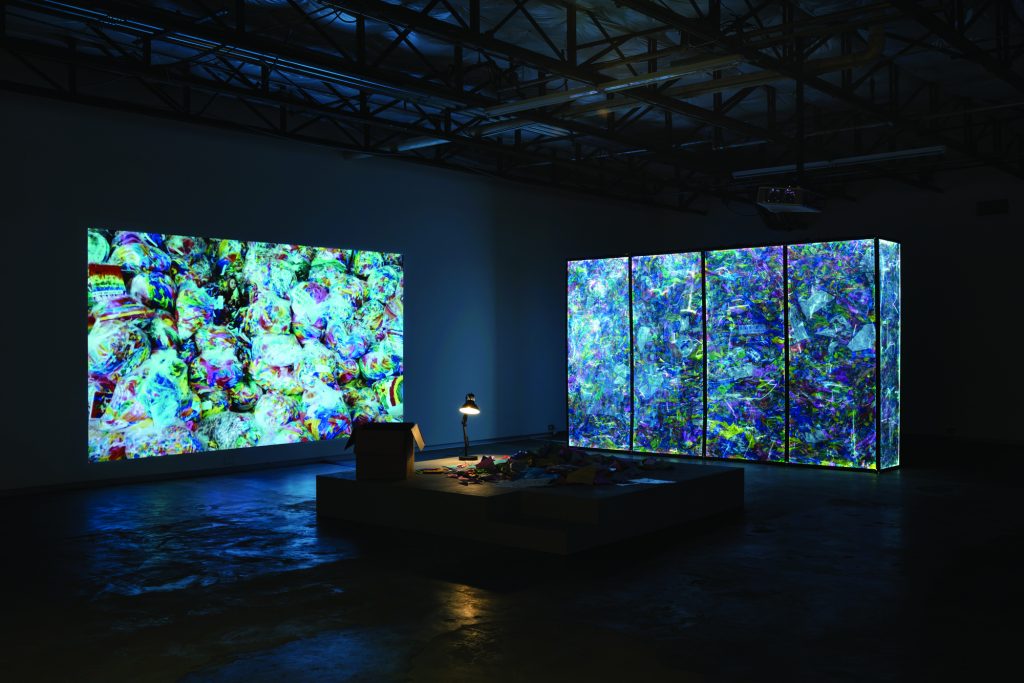 Non-Burnable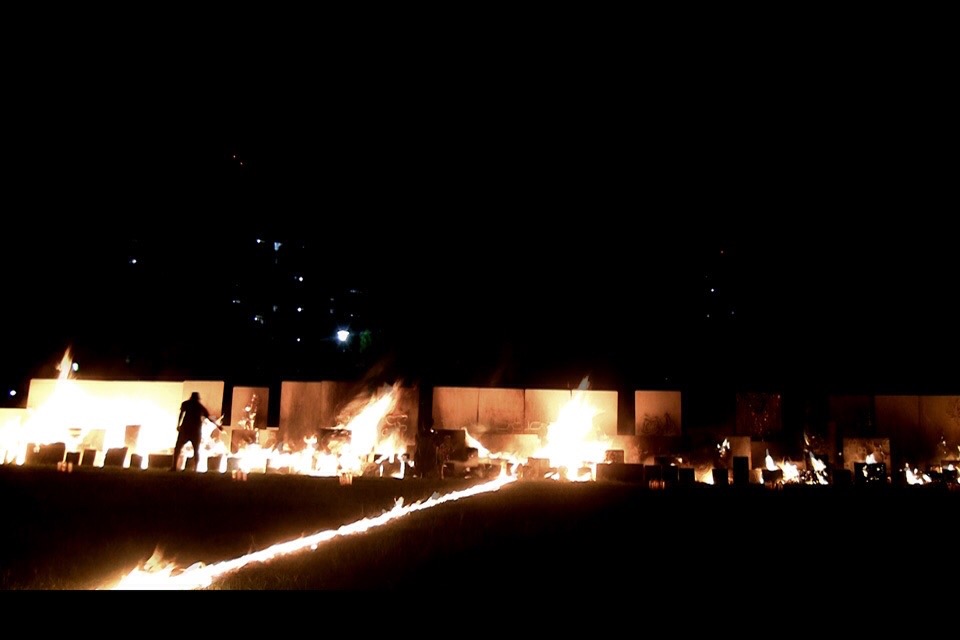 Peace Day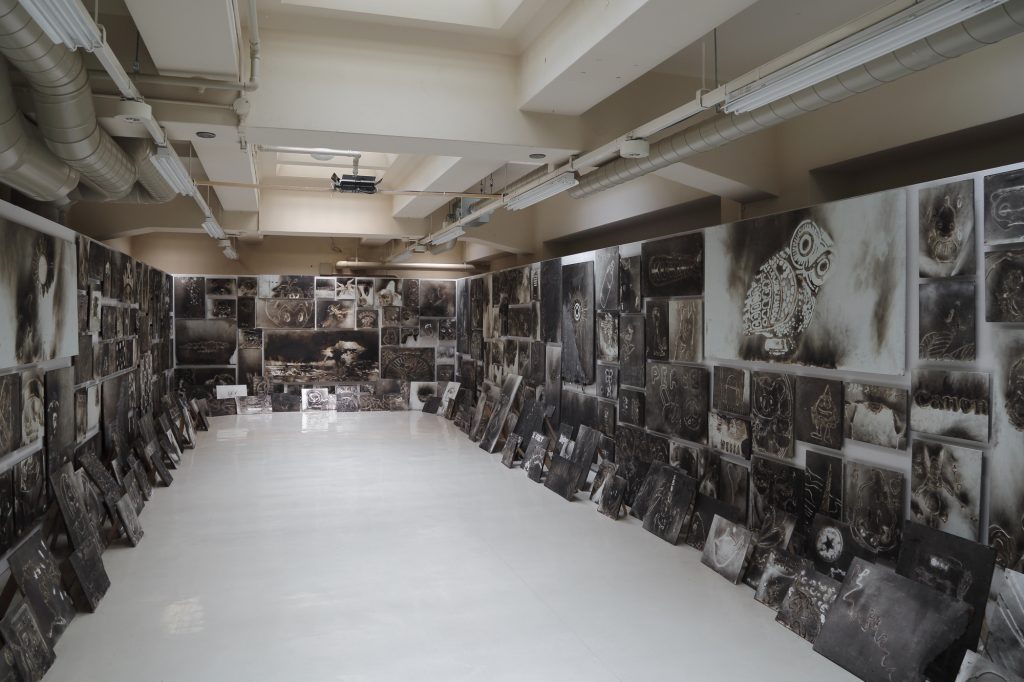 Peace Day, photo: Kenji Morita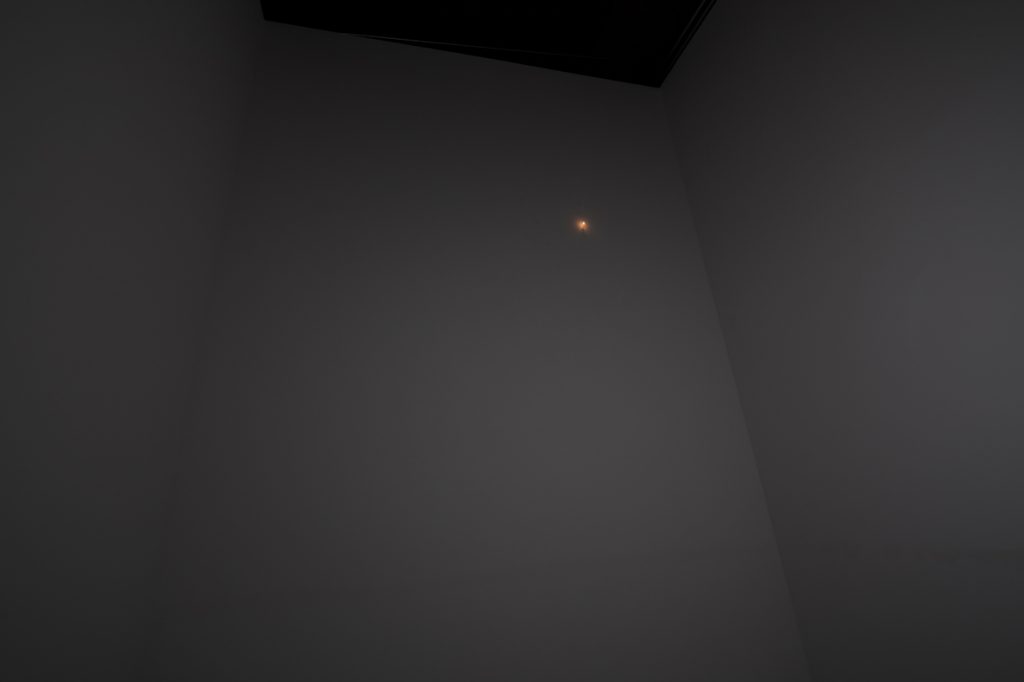 We Don't Know God, photo: Kenji Morita
Hiroshima! ~ (2008 - )
In 2008, ChimPom made a skywriting of the word "PIKA!" in the sky above the A-Bomb Dome in Hiroshima for "Making the Sky of Hiroshima 'PIKA!'" project, which developed into a dispute and brought about cancellation of a solo exhibition to be held at Hiroshima City Museum of Contemporary Art. Having published a book reporting and investigating the dispute, ChimPom has continued to produce many works on Hiroshima and nuclear issues. With "HIROSHIMA!"(2009 Vacant, Tokyo) as a start, the summerized exhibition "HIROSHIMA!" has traveled around with those works, counting up with adding an "!" in the end each time. In 2013, it was brought to Hiroshima as Chim↑Pom's biggest solo exhibition ("Hiroshima!!!!!!", The former Bank of Japan Hiroshima Branch) by Gallery G's calling out and support from some citizens of Hiroshima.
Making the Sky of Hiroshima "PIKA!" (2009)
Writing the word "PIKA!" in a vapor trail in the sky above the Genbaku Dome (Hiroshima Peace Memorial), this work put a mimetic word in the scenery of Hiroshima reminiscent of a panel from a comic book, layering the disappearing vapor trail on the decay of memories, as an expression of contemporary historical understanding of peace in postwar Japan.

Real Thousand Cranes(2008-)
This project aims at producing 1000 life-size realistic crane (gures one by one as a commissioned work from individuals and organizations. Hiroshima receives a number of origami cranes from all over the world, and this can be seen as "a collection of human prayers" all made in the identical design each expressing an intimate wish for peace. Ever time someone orders a crane, this project also produces a plate engraved with his/her prayer. Art collection and human prayer are connected together under the name of "Senbazuru" [a thousand cranes, a symbol of prayers for recover in Japan].

Why Can't We Make the Sky of Hiroshima "PIKA!"?(2009)
investigates not the work Making the Sky of Hiroshima "PIKA!" itself, but themes of "A-bomb/war," "contemporary society," and "expression" through various "PIKA!" disputes, as it was published prior to the public exhibition of the work.

The history of human(2015)
Countless number of origami cranes are sent to Hiroshima City from all over the world. This is originated from the true story of a Japanese girl who was diagnosed with leukaemia after being exposed to radiation from the bombing of Hiroshima and kept folding origami cranes wishing for health and peace, based on the legend that a wish comes true when the number of a crane reaches to one thousand. Ever since, Hiroshima receives vast amount of one thousand origami cranes and it has become as if a world collection of prayers each expressing an intimate wish for world peace. Hiroshima, however, has been facing a practical problem to preserve ever-increasing amounts of cranes.

The project comprises the following procedure:
Large quantity of origami cranes are received from Hiroshima City
Each crane is unfolded by Ellie
The unfolded cranes are refolded by visitors to the gallery
The refolded cranes are sent back to Hiroshima City

Each origami crane holds peace in its meaning, Chim↑Pom on the contrary, unfolding each wish. The reaction appears counteracting each other, but the endless loop of destruction and peace should be beyond an act of prayer and the endless loop is inevitably everlasting challenge.
Performance will be shown for two hours daily, sometime during the exhibition.
Material is provided by Hiroshima City

Postal service connects the whole world(2017)
There is also a video work of the group sending paper cranes, unfolded origami and instructions on how to fold them back as a package to American President Donald Trump and Kim Jong-un, the Supreme Leader of North Korea.

Non-Burnable(2017、2019)
Hiroshima City receives countless paper cranes from all over the world – Chim↑Pom is given some of them to unfold into single sheets of origami paper and then folding them back into cranes one by one. Along with a performance video of Ellie steadily unfolding the paper cranes back to origami while reading the messages written inside them, the work offers a workshop that invites the audience to fold the unfolded origami back into paper cranes. Te recycled paper cranes are sent back to Hiroshima City from the museum. Te title references the fact that the warehouse Hiroshima City uses to keep the paper cranes is labeled "non- burnable trash."

Peace Day(2011, 2013)
A series of paintings using "the Peace Flame". About 440 in total. Large and small paintings depicting animals, plants, daily necessities, etc. were piled up using rope and plaster, and burned at once with a single fire thrown. Produced in Tokyo in 2011 and Hiroshima in 2013.

We don't know God(2018)
"The Peace Flame" is the embers from a fire that was started by the Hiroshima atomic bomb attack. From its original location, it was brought to Hoshino in Fukuoka Prefecture, the hometown of Tatsuo Yamamoto as a memento to commemorate his uncle who fell victim to the atomic bomb, and it continued to burn secretly for 25 years. Te fame was passed down to the village in 1968, which was dispersed to various temples and town halls all over Japan, allowing it to exist until today. Chim↑Pom used this fire as a medium for the production of various art pieces, but this is the first time that the fire itself, accompanied by a white wall became a piece of art. Te goal is to pass the fire on to various museums around the world. Te title has multiple connotations: it refers to the fact that the fire is passed from Japan, the country where there are many atheists and the first country in human history to become a victim of nuclear attacks. In these settings, the power of the atomic bomb becomes a force as if Buddha or any other God does not exist. It also has the implications of fire being worshipped as a god in ancient times and presents nuclear energy as an invasion of the territory of almighty God.